Even a casual fan doesn't need a stats background to recognize a terrible start. The Red Sox aren't just losing, they're on pace for a historically bad season.
While Red Sox starting pitching has been well beyond pre-season expectations (3.28 ERA, fourth-best in the American League), the bullpen has been weak (1.267 WHIP is third-highest in the AL).
Worse, though, Boston's offense, thought to be a sure-thing prior to the start of the season, has been all but non-existent. With a few exceptions, the Sox offense has been mostly empty at-bats, with aggressive but often fruitless swings, and weak contact, when contact is made at all.
In all, the Red Sox have scored just 3.3 times per game, the third-lowest runs tally in the Major Leagues, and have made the most one-pitch outs in baseball (93). And yet despite the terrible results, there's been little substantive change in the approach since the start of the season.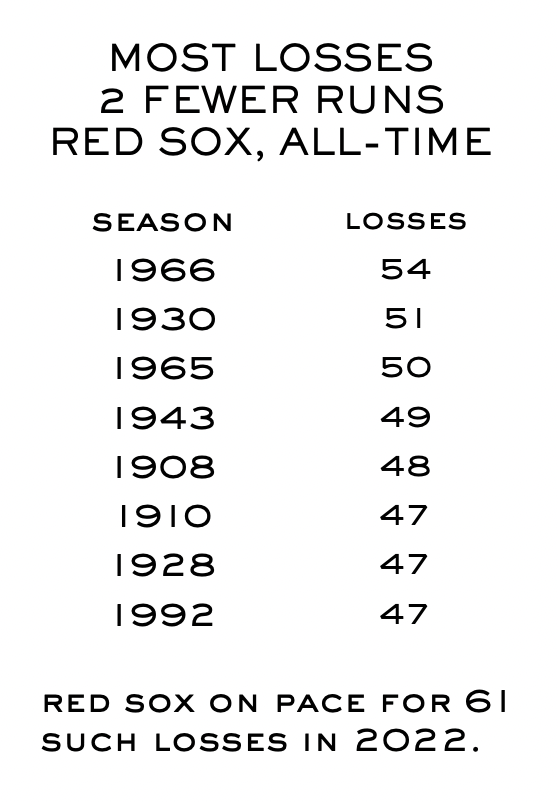 In search of the bottom
Sunday's 3-2 defeat to the White Sox was Boston's 11th loss of the season by two or fewer runs, the most in baseball.
With nearly a fifth of the season already done, the Sox are on pace for 61 such losses this year, which would be a new franchise record and tie the 1968 Mets for the second-most such losses by any team in Major League history. Only the 1917 Pirates had more (63).
To date, the most single-season losses by two or fewer runs for Boston was 54 in 1966. No Red Sox team in franchise history has made the playoffs with more than 42 such defeats in a season.