If you've ever been a little overwhelmed by the volume of @RSNStats tweets, this article is for you. It describes how to better organize your use of Twitter with a feature called Twitter Lists that is available to everyone.
RSNStats Floods Your Timeline
The @RSNStats data feed on Twitter comes alive during many Red Sox games throughout the season. The feed contains a lot of information that rolls out in real-time as the game unfolds.
Much of the data on @RSNStats is quantitative, providing numerical statistics for similar game situations, such as a player's historical performance when batting with men at second and third and two outs.
Some of the data on @RSNStats is qualitative, giving you additional background information, such as where a pitcher grew up or went to school, or how an opponent might have some relation back to the Red Sox. When there is less action on the field, @RSNStats might include information about the ballpark or the umpires, or about the historical relationship between the Red Sox and the opposing team.
If you follow @RSNStats you know that during the game it can fill your Twitter stream pretty quickly. Some people find that annoying as @RSNStats can crowd out what else is going on with their followers.
Twitter Lists Can Help
There's an underused Twitter feature, however, that can help you organize your timeline. Twitter Lists gives you a way to see just the tweets for a specific set of accounts that you select. There's no limit to the numbers of lists you can create or subscribe to, and no limit to the number of Twitter accounts that appear in a list. In fact, the same account can Twitter user can be part of multiple Twitter lists.
The program you use to read Twitter, whether it's the official app from Twitter or a third-party app like Tweetbot, will let you switch among your lists. The instructions for switching among your lists will vary depending on the app you're using.
Lists can be really helpful organizing Twitter for you. For example, you might create lists for:
Just the news sources you trust,
Musicians or movie stars you like best,
Authors of your favorite books,
Local restaurants and bars in your town,
Comedians that make you laugh,
Sports teams you care about, like the Red Sox!
Interested in the latest news? Select your news list. Looking for something to do tonight? Check out the tweets in your local restaurants and bars list. Ready for Red Sox baseball? Select your Baseball list — just be sure @RSNStats is a member of the list!
With Twitter Lists you can read about what you're interested in now instead of seeing all your different timeline subjects jumbled together.
Creating Your Own Lists
Setting up a list is easy and only takes a few minutes. You can always edit your lists, too, adding additional Twitter accounts to the list or removing members from the list. Twitter's official documentation gives you step-by-step instructions.
Your lists can be public or private. If they're private no one else can see them or subscribe to them. If they're public, other Twitter users will be able to see your list and even subscribe to it themselves, meaning that they, too, can switch to viewing just the tweets from the members of that list.
Subscribing to Existing Lists
There are lots of existing Twitter Lists you might find interesting. You can see the lists created by other people right from their Twitter home page.
For example, as shown here, the official Red Sox home page includes two pre-built lists for Red Sox Players and for Red Sox Affiliates (like the Pawtucket Red Sox, the Portland Sea Dogs, and people and groups affiliated with the Sox).
To subscribe to one of these lists, just click on the list's name and then click the Subscribe button on the next page.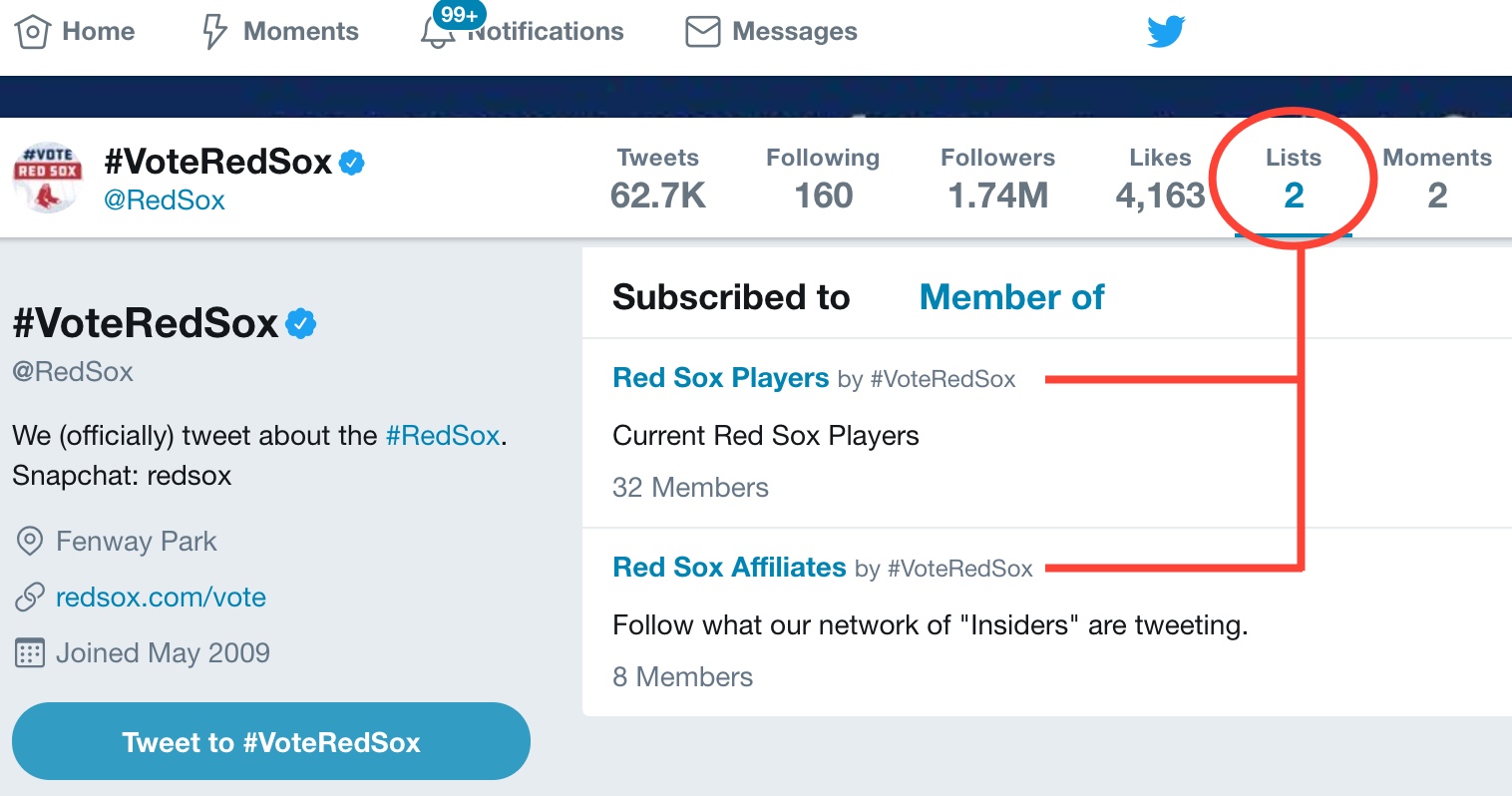 Give It A Go
Twitter Lists are a great tool that many people don't know much about. Set up a few lists for yourself and soon you may find that you're more using Twitter more effectively than ever.
If you need help with any of this, just drop a note using the comments form here.