At the first official day of Spring Training in Florida, Red Sox pitcher Chris Sale said he is happy to be back with his teammates preparing for a new season, but had no timetable to share for his return.
"I don't want to get too far ahead. I'm not looking at a month from now, two months from now, even, really, a season. I can't. That wouldn't be fair to myself or my teammates," Sale said. "I take it a day at a time and I'm doing everything I can to get back out there as soon as I can."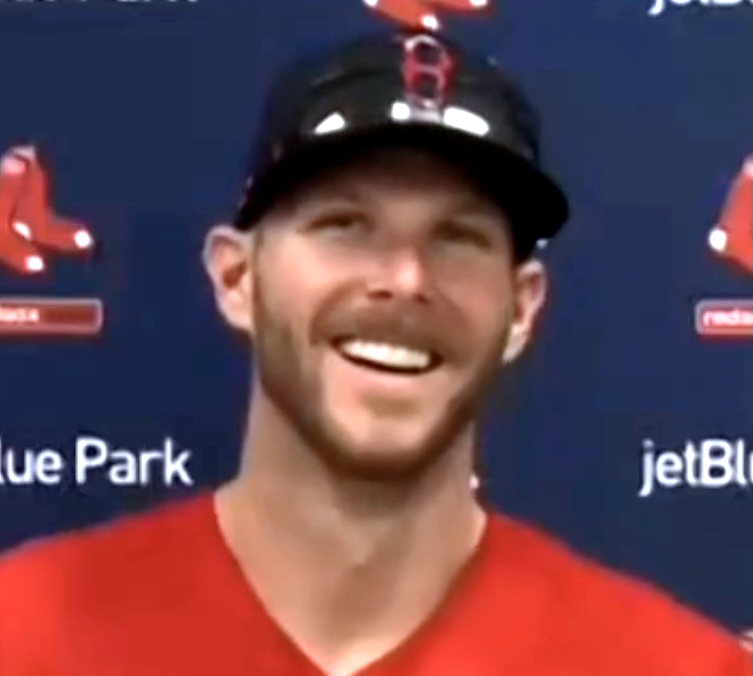 Having undergone Tommy John surgery last March, Sale said he's following the advice of team trainers with regard to what he can do but confirmed he has yet to throw off the mound. He also admitted having recently visited with "some doctors" about neck discomfort but that he was "back on track."
With regard to his elbow Sale was optimistic. "I feel great, now," Sale said, emphasizing the difference between then and now. "My elbow has been on track since Day One, nothing off track with that, that's been kind of steady through this whole process."
COVID impact in 2020—and 2021
During last year's pandemic-shortened season Sale stayed close to his home in Florida but worked out five day a week at JetBlue Park, recalling that there were days when he was the only one at the complex.
Sale revealed today that he had himself contracted a "mild" case of COVID-19 last month. "I lost my taste and smell for about a week. Had a runny nose for a couple days [but] fever never got above 99," he said.
Welcomes return of Alex Cora
On Alex Cora's return to the team's helm after sitting out 2020, Sale was positive, saying that Cora brings "camaraderie, trust, [and] passion" to the organization. "There's no question he brings it on a daily basis," Sale said. "Everything that [Cora] does is to better either himself, his coaching staff, the team, the organization.
Throughout 2020, Sale said, he kept in touch with his former manager, saying that he believes having Cora back with the team "is a key part to this whole thing, moving forward."
Mentoring Young Talent
The Red Sox may not have Sale on the mound any time soon, but he believes he can pay forward some of the mentorship he received as a younger player.
Sale said he has been impressed with the confidence and performance of Tanner Houck, who made his Major League debut with Boston last season. "He did everything he could have done to help his team win games and get his career off on the right foot."
"I'm obviously not playing baseball and I'm making a lot of money to do it," Sale admitted. "I better bring something to the table [and] that's one of those things that I think I can do…while I'm not on the field bringing wins to the table."