On Tuesday the Pirates shut out the Red Sox, 4-0. It was the 15th shut out of the season for Boston. In the American League only the Rays and Mariners have been shut out more (17 times each). Among all MLB clubs this season, only the Padres have been shut out more frequently (19 times).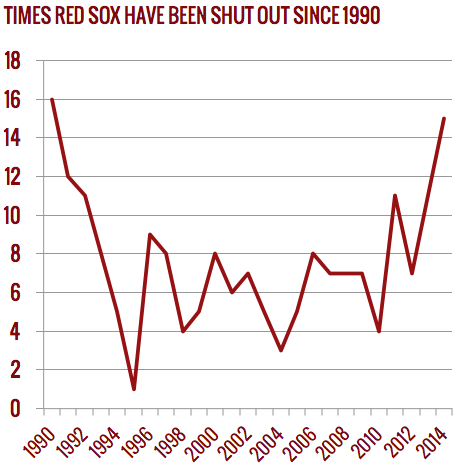 Assuming no others this season, the 2014 Red Sox will match the 1914, 1920, 1964, and 1967 clubs for the 6th-most shutouts in franchise history.
The Red Sox all-time record for being shut out is 23 games by the 1917 club, followed by the 1963 and 1974 clubs, which were shut out 17 times each. The 1922 and 1990 clubs were shut out 16 times.
You have to go all back 24 seasons to find a Red Sox team that was shut out more frequently than this year's club: the 1990 Red Sox were shut out 16 times. Let's hope that dubious milestone stays unbroken.