As the Red Sox season will in a couple weeks, the Chaim Bloom era came to sudden stop on Thursday. Bloom, 30, was the club's chief baseball officer since October 2019.
The weather at Fenway Park this week matched the team's dreary performance in 2023, as Boston played New York in back-to-back doubleheaders on Tuesday and Thursday after rainouts on Monday and Wednesday. The Sox and the Yanks are in a dead-heat, hoping to avoid finishing last in the American League East.
But the 2023 results were not the only reason for Bloom's departure. Though Boston is 267-262 (.505) over Bloom's tenure and advanced to the postseason in 2021, the club finished last in the division in 2020 and 2022, with this ugly season soon to be determined.
Though Manager Alex Cora, players, and media expressed surprised at the timing of Bloom's dismissal, surely it couldn't come as a surprise. Bloom's era was punctuated with a small handful of significant deals (Trevor Story, Masataka Yoshida, and Rafael Devers for example) and a bread basket full of low-cost reclamation deals aimed at catching lightening in a bottle.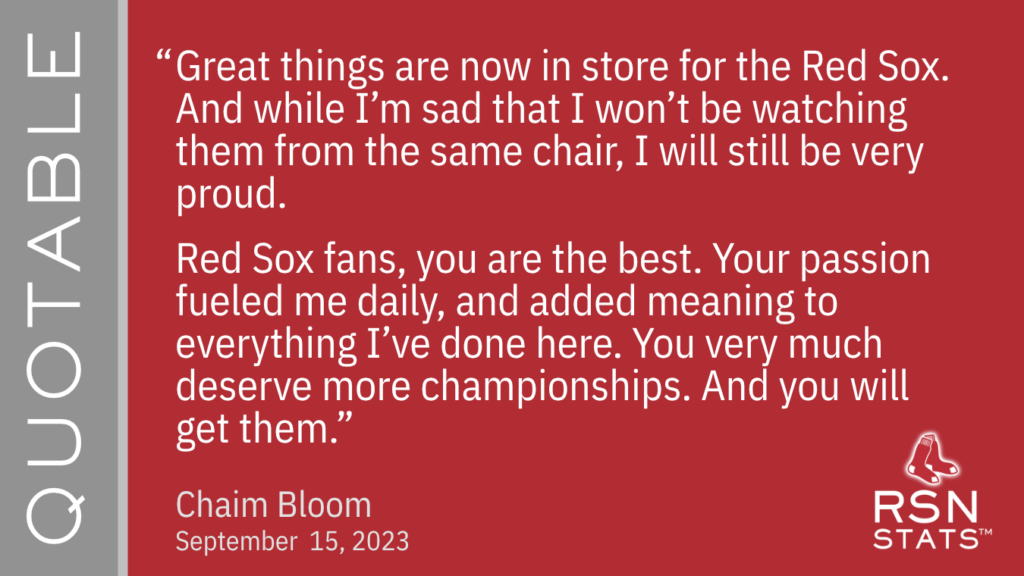 Under Bloom, the Sox stood on the sidelines as the rest of the division improved. Year after year, as other teams scooped up impactful talent, Bloom told fans that big, headline-grabbing deals would backfire in the long term. He may have been right, but the undeniable result was that Boston regressed while the Orioles, Rays, and Blue Jays made moves aimed at dominating the division.
For some, Bloom was a voice of reason. For others, he was turning a once-proud franchise, with four World Series Championships since 2004, into a mid-level, mid-market performer. The Fenway Faithful, often drowned out this season by fans of visiting clubs, saw lackluster game play with quick 1-2-3 innings, horrific defense, and weak starting pitching. Where once there was domination, the Red Sox became the definition of mediocrity.
Red Sox President and CEO Sam Kennedy acknowledged much of this on Thursday, while taking pains to stress Bloom's exemplary character, a positive theme repeated by nearly everyone who knows him.
Kennedy was adamant that the team's goal was winning championships. Using language that seemed pointedly opposite to Bloom's approach, Kennedy said, "We owe it to our fans to be decisive, aggressive, and clear, which is to get back to playing baseball in October."
"We are not going to waste this opportunity," Kennedy went on. "We're here to win and we're here to be competitive and that's what the Boston Red Sox are all about. This has been a new era of winning, these past two decades, and that's why we're here."
On Friday, Bloom issued a statement in which he thanked ownership for the opportunity with the club. "I will always be grateful to John, Tom, Mike and Sam for trusting me to lead the Red Sox baseball operations department. Every day, I gave my teammates and this organization everything I had, and I never took a second for granted," Bloom said. "Great things are now in store for the Red Sox. And while I'm sad that I won't be watching them from the same chair, I will still be very proud. Red Sox fans, you are the best. Your passion fueled me daily, and added meaning to everything I've done here. You very much deserve more championships. And you will get them."
Cleaning House
In addition to Bloom's departure, the club announced on Thursday that General Manager, Brian O'Halloran, was offered a different senior role in the organization. O'Halloran, a Weymouth, Massachusetts native, joined the club as a baseball operations assistant in 2002.
Manager Alex Cora, who has expressed a front office role at some point in his career, was asked repeatedly on Thursday whether he he'd seek the top job in Boston. But Cora was coy, repeating several times the same line about what lies ahead for him: "I'm going to finish the season, have the [postseason] press conference, and get ready for next year."
Kennedy said that he expected Cora to return next season as manager but wouldn't comment on whether Cora would be considered for the top operations job.