Lots of ink spilled over the past week about how few Red Sox starters are making it deep into games, an understandable complaint as this RSNStats analysis shows.
But while this phenomenon is spotlighted for the Sox of late, Boston is clearly not alone when it comes to declines in starting pitcher endurance, at least for games played early in the season.
For the third season in a row, Red Sox starters have averaged fewer innings pitched over the first 15 games, falling from nearly 6 innings in 2013 to about 5.1 innings in 2015.
This season, in the first 15 games, just 3 Red Sox starters (Clay Buchholz, Joe Kelly, and Rick Porcello) have pitched beyond 6.0 innings, the fewest in the club's past 10 seasons. Worse, each had subsequent outings of 5.0 or less innings pitched.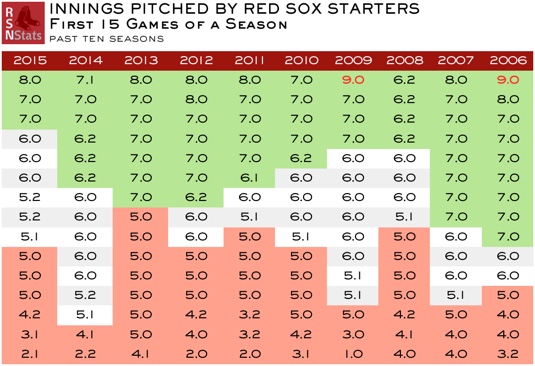 Besides this year's team you have to go back to 1996 to find another Boston crew with as few as 3 starts of more than 6.0 innings. That 1996 team finished 3rd in the division at 85-77.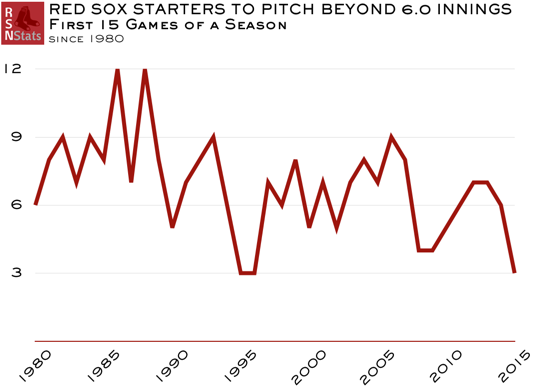 Just as disturbing in 2015 are the 6 starts of 5.0 innings or less. And while it may be tempting to compare 2015 to the World Champion 2013 club which had 8 short starts, 7 of those at least went 5.0 innings.
The two complete games in 2006 and 2009 were both by Tim Wakefield coming in Games No. 10 and 8, respectively.
Sox not alone this year
Getting your starter through more than 6.0 innings wouldn't seem like that much of an accomplishment, but through 15 games of 2015 fully 9 teams, including the Red Sox, managed it just 3 times or less. Six clubs, the Braves, White Sox, Rockies, Marlins, Phillies, and Blue Jays, had just 2 such starts. The Tigers, on the other hand, have led baseball this season with 9 such outings in their first 15 games.
Things were different in 1980 when only 2 teams, the Mets and the Montreal Astros, had an MLB-low of 3 starts through 15 games where starters got past 6.0 innings of work. Five clubs that season had 10+ such outings, including the Cardinals and Dodgers who each had 11.
This season, across all of baseball's first 15 games, 138 total games have featured starting pitchers who went beyond 6.0 innings. That's the fewest such games since 2009 (136 games) and the 2nd-lowest such tally since 1996, the year after baseball expanded to 30 teams (the strike-shortened 1995 season was dropped from this analysis).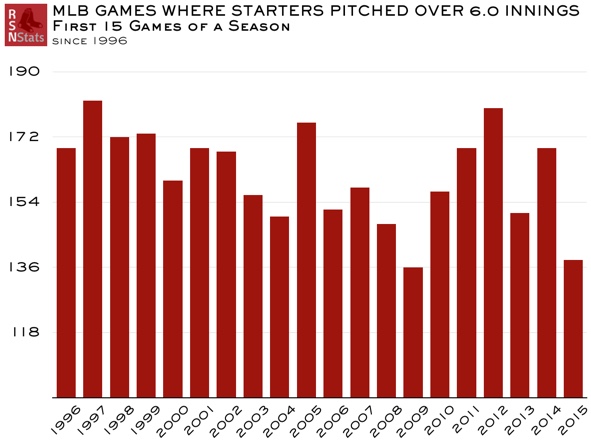 The 2015 Red Sox pitching woes are well documented but is it time for fans to panic? Not at all, but warning buzzers are ringing. How the club and the front office responds may well determine how the rest of the season unfolds.