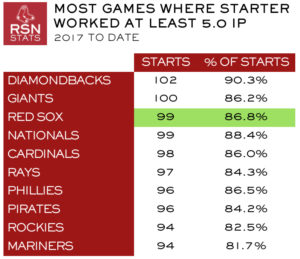 So far this season, Red Sox starters have worked at least 5.0 innings in 99 starts or 86.8% of all games. That's the highest such rate in the American League and the third-highest rate in the majors after the Giants (86.2) and Diamondbacks (90.3%).
To date, 163 Major League pitchers have made at least 10 starts, but only 13 of them have worked 5.0+ IP in all their starts. Not surprisingly, Chris Sale is one of that group. Sale was limited to just 5.0 IP twice, both representing his shortest outings of the season. Red Sox starter David Price has also lasted at least 5.0 IP in each of his 11 starts this season.
Last season, the Sox had just one such pitcher, Rick Porcello, who managed to get through at least 5.0 IP in every start. Indeed, of the 184 pitchers in 2016 with 10 or more starts, just three others in all of baseball managed the feat for every start (also Madison Bumgarner in 34 starts, Jake Arrieta in 31, and Kyle Hendricks in 30.
Baseball's record for the most consecutive starts of at least 5.0 IP is owned by Curt Schilling, who managed it in 147 straight games from July 21, 2001-September 26, 2006. Only 20 of Schilling's 436 career starts, and just two in a Red Sox uniform, lasted less than 5.0 innings.
This season, Sale has worked at least 7.0 IP in 17 games, the most such games in baseball. Over the past 30 seasons, Boston's most such games is 30 by Roger Clemens in 1991. Clemens also owns the club's second and third best records in that span of time with 28 and 26 such games in 1989 and 1992, respectively.
Rarely Going the Distance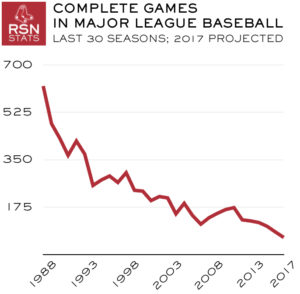 This season the Red Sox have four complete games by three pitchers: Sale (1), Porcello (2), and Brian Johnson (1). No other MLB team has as many pitchers with complete games so far this season.
Only the Twins (6) and Indians (5) have had more complete games than the Red Sox. Pitchers for the Athletics, Braves, Orioles, Phillies, Rays, and White Sox have yet to toss a complete game this season.
The Sox have had at least three pitchers with a CG in each of the past six seasons. They had four such pitchers in the World Series Championship year of 2013 (Clay Buchholz, John Lackey, Jon Lester, and Jake Peavy).
To date, there have been just 44 complete games in all of baseball. If that pace continues, there will be 63 such games this season, a new all-time low. As shown in the graph here, the number of complete games has declined dramatically in the past 30 years and in every season since 2011.