One by one Red Sox players, managers and executives have been talking with the press during the start to Spring Training in Florida. The brief question-and-answer sessions have been mostly predictable stuff, with the players clearly well-coached on what to say and what topics best to avoid.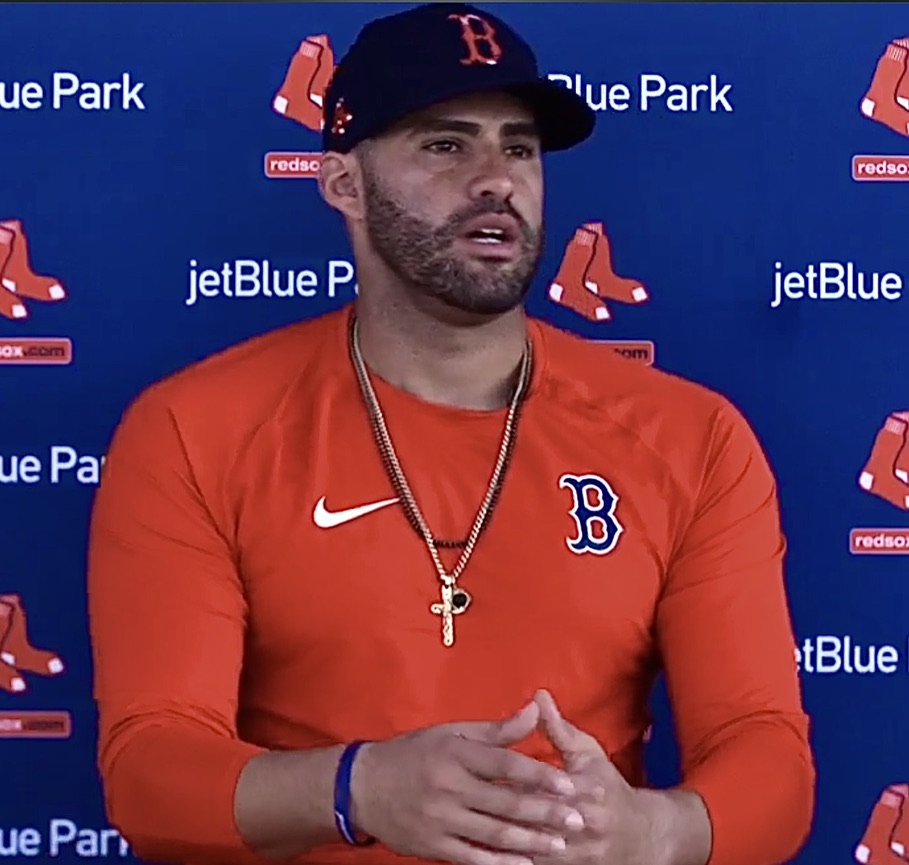 Along the way, for example, we've heard Chris Sale say his elbow feels good, Xander Bogaerts predict that it will be an exciting season, and we learned that newcomer Alex Verdugo can't wait to meet his idol, David Ortiz.
But on Monday afternoon, in response to being asked whether he found it hard to square his personal views of Alex Cora ("the best manager I ever had") with the reality that Cora was at the center of the Astros' sign-stealing controversy, J.D. Martinez' response was both thoughtful and insightful.
Honestly, when [the Commissioners' report of the Astros' activities came to light], I was very, kind of, shocked by it. I wasn't aware. I didn't even know, for as much time as he was mentioned [in the report], it obviously caught me off guard.
I can put my hand on anything—go through any lie detector, whatever—when Alex came here he never influenced us in any way to do that. Never even mentioned it.
I didn't even know [the Astros] were doing it. I didn't find out until Mike [Fiers] mentioned it to me, when he was in Oakland,…cause I'm friends with him and he kind of brought it up to me…That was the first time I ever heard of it. But I didn't know that Alex was so involved in it. 
Obviously, people make mistakes and it is what it is. I think he's feeling it now. But that doesn't change my view on him, and the way he treated me as a human, and the way he treated me as a person…I still have great respect for him."
J.D. Martinez
Red Sox DH/Outfielder
At the Sox Winter Weekend in Springfield last month (shortly after Cora and the Red Sox parted ways), Martinez went on the record with a forceful repudiation of the investigation into the 2018 Red Sox. "I'm excited for the investigation to get over with," Martinez said at the time. "Just so they can see there was nothing going on here."
Martinez Doubles Down
Now Martinez has doubled down on his beliefs that the 2018 team was blameless, saying on Monday that Cora "never influenced us in any way to" steal signs illegally. And like just about everyone else in the Red Sox organization, continued to express a great deal of respect for Cora, despite the accusations and pending sanctions from Major League Baseball against the former manager.
MLB Commissioner Rob Manfred said Sunday that the investigation into the 2018 Sox should be done by February 28, adding rather ominously that " a couple of developments" had required investigators to perform some re-interviews.
In remarks on Monday, Red Sox principal owner John Henry said "I don't think anything…has changed" with respect to earlier confidence that investigators will find the 2018 team did not cheat.