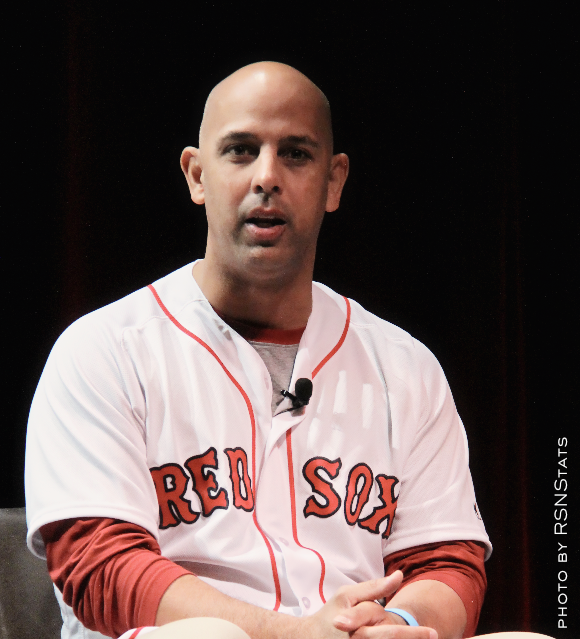 Major League sanctions are on the way for Alex Cora—and they could very well be long-term and serious—but one seemingly foregone conclusion is behind Red Sox Nation. Cora is gone from the team. In a statement remarkable for its lack of any contrition, Cora said that "parting ways was the best thing for the organization."
Cora's departure is far from the end of the story for him or the Red Sox, but at least answers questions of whether he could successfully manage the team in 2020 with so many distractions. Now, new baseball chief Chaim Bloom, conspicuous absent from the official announcements of Cora's departure, has critical decisions to make with spring training less than one month away.
Tuesday's announcement was the culmination of roughly 24 tumultuous hours for Cora following MLB Commissioner Rob Manfred's decision to suspend for one year Astros manager A.J. Hinch and General Manager Jeff Luhnow for cheating in 2017. After Manfred's statement was released on Monday Hinch and Luhnow were fired by Astros owner Jim Crane.
Cora Blasted In Astros' Report
More than Hinch or Luhnow, however, it was Cora's name that featured most prominently in Manfred's statement about the Astros, making Cora's role in the scandal unambiguous. Manfred said that as Houston's bench coach, Cora was "involved in developing both the banging scheme [for sign-stealing] and utilizing the replay review room to decode and transmit signs."
This is a sad day for us. Alex is a special person and a beloved member of the Red Sox. We are grateful for his impact on our franchise. We will miss his passion, his energy and his significant contributions to the communities of New England and Puerto Rico."

Statement of Principal Owner John Henry, Chairman Tom Werner,
and CEO Sam Kennedy.
Earlier this month, following a report in The Athletic, MLB opened another investigation, this one into whether the 2018 Red Sox, then under the first year of Cora's management, were involved in illicit sign-stealing, as well. On Monday the commissioner said he'd reserve judgment on Cora until the investigation into the Red Sox was completed. "I will withhold determining the appropriate level of discipline for Cora until after the [Department of Investigation] completes its investigation of the allegations that the Red Sox engaged in impermissible electronic sign stealing in 2018 while Cora was the manager," Manfred wrote.
The common denominator in the two investigations, of course, is Cora. Given that he was already likely facing sanctions for his role in the Astros' scandal (regardless of what may or may not be uncovered in the second investigation), it can be assumed Red Sox ownership felt it was time to move on. Nevertheless, on the MLB Network Tuesday night, Joel Sherman reported that Cora's departure from Boston will not impede MLB's current investigation into the Sox, nor will it short-circuit sanctions the commissioner is likely to impose on Cora.
What Might Have Been
With his playing days behind him (including four seasons in a Sox uniform, 2005-2008), Alex Cora's arrival in 2018 as a first-time manager was heralded with great fanfare and much promise.
At 42 years old, Cora still exuded youthful energy and compelling confidence. "In Alex we have found a natural leader to guide our clubhouse," gushed Red Sox principal owner John Henry. Cora's 24,000 Twitter followers were held up by the Boston Globe as a sign of a new, modern direction for the club. At the time Cora was one of nine Major League managers without even a single game of minor league management experience.
Experience can be overrated, but whether management of the Boston Red Sox is really an entry-level job remains an open question. Would an experienced manager, say Terry Francona, Jim Leyland or Bruce Bochy, have turned a blind eye to what happened in Houston? Would they have created the sign-stealing program in the first place? We can never know for certain, and yet the answer seems clear. Indeed, Nick Francona, then an employee for the Angels, recalls longtime LA manager Mike Scioscia's reaction to having access to video monitors nearby following the expansion in instant replay in 2014: "Scioscia made it clear there would be zero tolerance for any nonsense and it was on me to ensure it didn't happen."
Now, Cora, who was runner-up for American League Manager of the Year after 2018, heads out of Boston in disgrace. He finishes his stunted, two-year tenure with the Red Sox 192-132. The 47th Red Sox manager's .593 winning percentage is the 4th-best manager's record in franchise history (minimum 200 games), a plaudit that will forever carry with it the sting of what might have been.