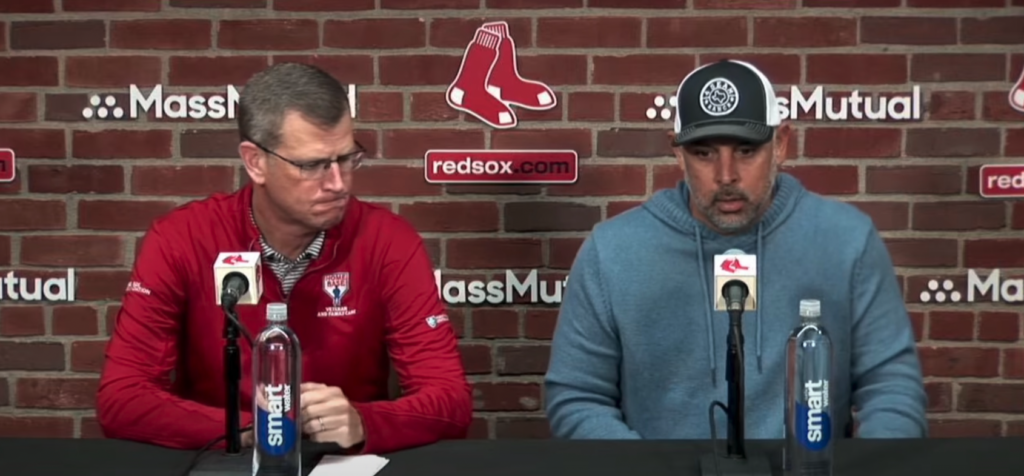 In 2022, the Red Sox finished with 78 wins, in last place in the American League East. And in 2023, they did no better, finishing the regular season in last with the same number of wins.
Things are different this time, though. The Sox dismissed baseball boss Chaim Bloom in September and are on the hunt for a new head of baseball operations. On Monday, a day after the regular season ended, CEO/President Sam Kennedy said the process to replace Bloom was underway but refused to put a timetable on when a new leader will be in place. "We're not going to let any deadline or timeline put constraints on the process," Kennedy said, while acknowledging that the team has reached out for permission to talk with other club executives, though no formal interviews have yet to take place.
Kennedy said that while "There's been a lot of incredible strides made across the organization," the team's performance at the Major League level has been unsatisfactory, reiterating the position he took after Bloom's dismissal. "I think where we've fallen short is not getting to where we need to be at the end of the year. We should be playing right now," Kennedy said. In the next leader, Kennedy said the club is looking for someone who can balance the competing goals of Major League success while building a sustainable organization at the minor league level.
Bloom's replacement, Kennedy said, "is a decision that I'll make along with ownership, ultimately, having the final approval."
Asked about the planned payroll for 2023, Kennedy would not get specific, saying that he didn't understand why other clubs tip their hand like that to competitors, but said resources wouldn't be an issue. "The resources have been there," under current ownership Kennedy said. "Where we've fallen short, sometimes, is in the allocation of those resources. And that's on us to fix."
Also from Kennedy on Monday…
The club will honor the life and community contributions of the late Tim Wakefield next season with details still be determined. Kennedy said that he agreed with Boston Globe columnist Dan Shaughnessy's characterization that Sunday's news of Wakefield's death was "perhaps the saddest day in the 123 year history of the Boston Red Sox organization."
Asked about the possibility of welcoming Curt Schilling back to Boston to honor the 20th anniversary of the 2004 World Championship, Kennedy demurred. "Not something I've given one minute of thought to." Schilling has been justifiably criticized for publicizing Wakefield's cancer diagnosis just days before his death without permission.
Kennedy brushed aside questions about the Red Sox playing an "unentertaining" brand of baseball. "Entertaining baseball is winning baseball. I don't care what anybody says," Kennedy said. "You can say that you need to play a different brand of baseball [but ] we got to win…Winning baseball is what matters, that's what entertains people."
Kennedy similarly waved off any concerns that candidates to replace Bloom would have misgivings about the role given its high rate of turnover. "This is the Boston Red Sox. If you want to run a baseball organization, this is where you want to be. You want to be in Boston. Why? Because it matters here more than anywhere else. So, if you're not up for the challenge, thanks but no thanks."
Season ticket holders should expect a "very modest, low, single-digit increase" in 2024.
Cora hints at years more as manager
Sox Manager Alex Cora once said he would not be advancing to the Red Sox front office in 2024, saying that he's already told Kennedy that he doesn't feel ready for that kind of role. "I feel like the impact that I can make here in this organization in the upcoming years will be in the dugout. That's the way I see it," Cora said. Cora is under contract for 2024 and Kennedy wouldn't address questions about future years for the manager.
Despite missteps in executing baseball fundamentals this season, Cora said that he doesn't believe a change to his coaching staff is necessary. "We just had a meeting an hour ago with our coaching staff and the tone of the conversation was we have to find ways to improve our players. You have to be willing to adjust what we have tried to do."
With regard to star slugger Rafael Devers, Cora said it was important that he continue to develop defensively, and especially to overcome some "bad habits" that they've pinpointed when Devers moves to the left. "We're going to work on a few things, and he's willing to do it." Cora said they will also work on Devers mental side of the game. "When you play, you're going to make errors," Cora said, "But then you've got to turn the page and make the next play and that's what we're going to work with him this off-season."
Asked, as he was last year, what player needed to take a step forward and improve in the off-season Cora was introspective. "Us, as a coaching staff, we've got to be better. We've got to push these guys to be a lot better. And it's on us to do this in the off-season, do that in spring training, and do it throughout the season next year. That's my challenge this year, me and the coaching staff. We have to be better."
Also from Cora on Monday…
In a brief tribute to Wakefield, Cora said that "he represented us with dignity." He added that Wakefield was often tough on young players, "but in a good way," teaching them "the right way to be a big leaguer, to be a Red Sox."
On Rafael Devers, Cora said it will be a priority to work on defensive improvements in the off-season, and particularly on ground balls to the left. "There's some habits that he has, bad ones, going to his left. To his right he's really good, moving forward he's been okay but I think it's to his left and we're going to work on a few things." In addition, Cora stressed improving Devers' mental side of the game. "When you play, you're going to make errors. But then you've got to turn the page and make the next play."
On rookie Enmanuel Valdez will play second base exclusively during winter ball and then get additional support from Sox coach Carlos Febles in the off-season. "First step is important, the angles that he takes is also something he needs to improve to become a solid defender at second base." Says Valdez is already valuable to the team offensively, "plate discipline, the impact of the baseball, the at-bats that he puts together is impressive."
Cora was generally positive about rookie Ceddanne Rafaela. "You saw the skillset. This kid is going to impact the defense," but said that he needs to get stronger and put in more work on his offense. "There's a few things offensively that everybody saw this month that he needs to work on. Plate discipline is one of them. There's a few things mechanically that we do believe he needs to do to get to the fastball," Cora said.