While we may not have reasonably expected back-to-back World Series championships, I think few fans would have anticipated a 47-53 record (.470) after 100 games for the defending champs.
That got me thinking about how clubs have done the season after winning the World Series.
Since 2000, only one club, the 2013 Giants, has posted a worse record than the Red Sox over their first 100 games following a World Series win. San Francisco went 46-54 (.460). Like the 2014 Red Sox, the 2007 Cardinals also were 47-53 (.470) following their Series win in 2006. All other clubs have posted better marks. In fact, since 2000, 11 of 14 clubs have posted .500 records or better in the 100 games of the next season.
Here's the full data set sorted by winning percentage.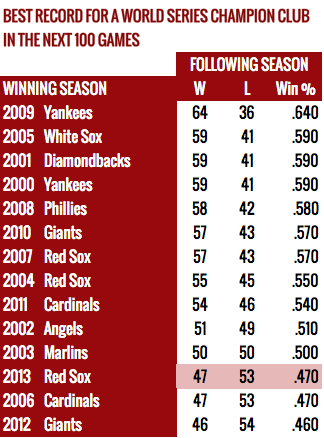 For the Red Sox, this year's .470 win percentage represents the club's 2nd-worse mark through 100 games following a World Series win, just barely better than the 46-53 (.465) record of the 1919 club. The 1917 club put up the best mark, going 59-38 (.608) in a season that included 3 ties over the first 100 games.