While your correspondent never counted on back-to-back World Series victories, I also didn't anticipate embarrasment, either, languishing here in the last place of the division with 62% of the season behind us.
With one hundred games in the books, here's a look at the state of Red Sox Nation. No surprise, it's not a pretty picture:
Boston's 47 wins through the first 100 games of the season is their fewest wins in that stretch since also winning 47 in 1943. The club's best mark over the first 100 games was 70 wins in 1946. The worst was 26 wins in 1932.
Since 1914 the Red Sox have had 36 seasons like this one where the club was below .500 after the first 100 games.
The Red Sox' .249 team batting average is tied at #8 with the 1918 club for their lowest AVG over their first 100 games.
795 strikeouts over the first 100 games is the club's 2nd most over their first 100 games in the past 101 seasons. The only group that had more? The World Champion 2013 club (812).
The club's 376 RBIs so far this season are their 19th fewest in the first 100 games since 1914.
What a difference a year makes
Oddly, the 2013 Red Sox seem like they were on the field 25 years ago. In so many many ways, the comparison with this year's club is tough to take.
A year ago, the Red Sox stood at 60-40, tied for Boston's 12th best mark after 100 games. By comparsion, this season's 53 losses are tied for their 26th most after 100 games since 1914.
And while the overall record is miserable, it becomes all the more obvious how we've gotten here when you compare this year's performance to just a year ago. The Red Sox are down, and in some cases significantly down, in just about every offensive category.
In particular, this year's crew has seen nearly a 25% reduction in home runs and RBIs and a whopping 57% drop in stolen bases. What's more, the 2014 club has grounded into almost 20% more double plays.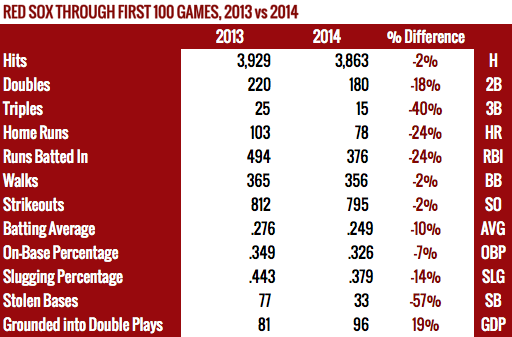 Is it a washout? Is it time to set our sights on 2015? Who knows. The weak American League East makes all things possible, even for this year's Red Sox. Even with a miraculous run to the postseason, though, it's likely the Red Sox will face tough competition to advance too far.