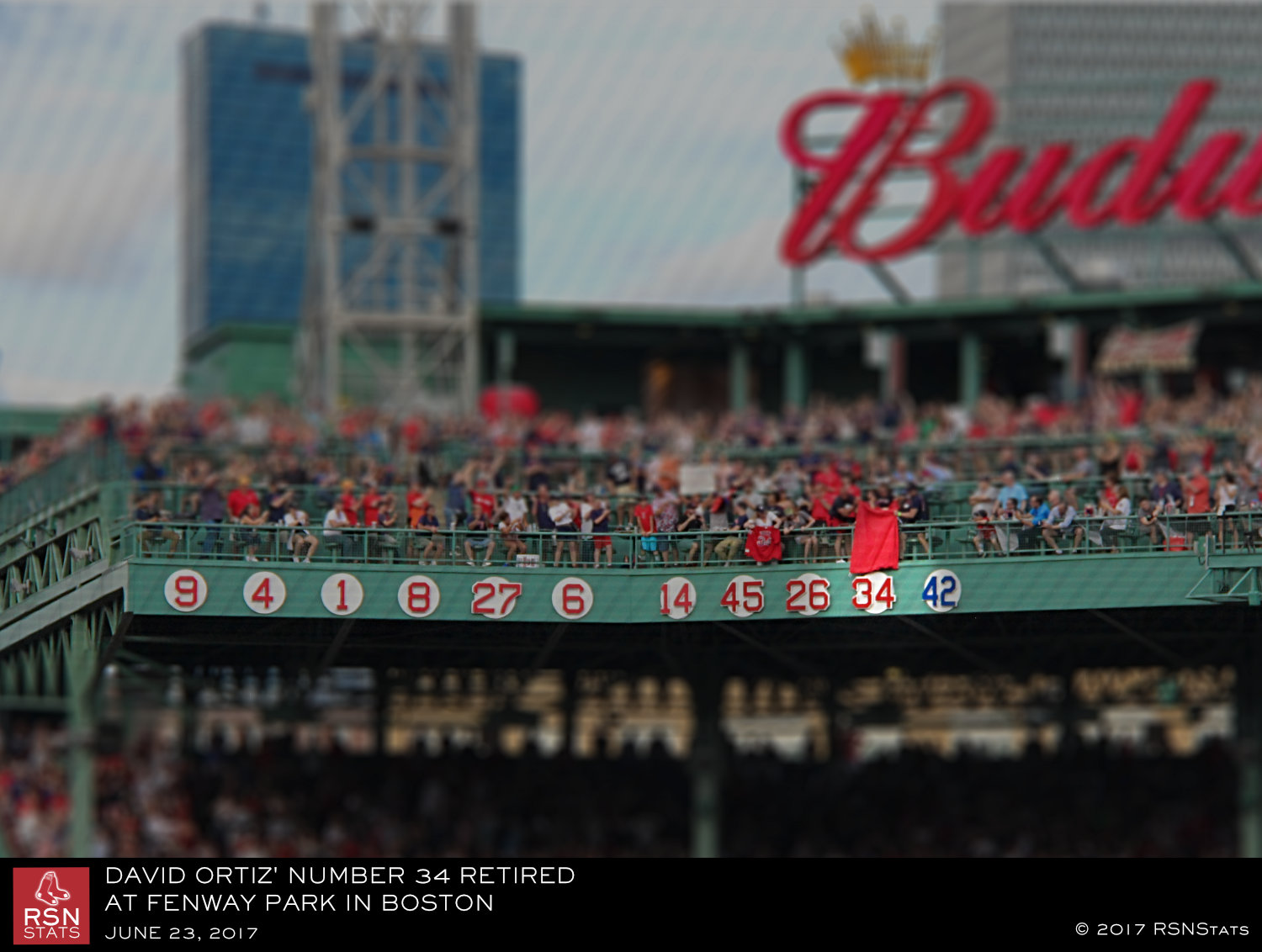 Personally, I've been waiting for this night since it first announced. And what a night it was.
The Red Sox fêted David Ortiz in a manner appropriate to his significance to this club and its fan base, offering the ultimate honor for any player, Friday night at Fenway.
Ortiz joined Wade Boggs, Joe Cronin, Bobby Doerr, Carlton Fisk, Pedro Martinez, Johnny Pesky, Jim Rice, Ted Williams and Carl Yastrzemski as Red Sox icons who have had their numbers retired by the club. Jackie Robinson's #42 was retired by all thirty major league clubs in 1997.
Martinez, Rice, Yaz, Boggs, as well as representatives from the families of Cronin, Doerr, and Pesky, as well as Jason Varitek and Tim Wakefield were on the field for the ceremonies, along with Sox executives and members of Ortiz' family. In a touching tribute, the son and daughter of the late Kirby Puckett, a mentor of Ortiz' from his time with the Twins, joined the contingent on the field.
We've had plenty of opportunities in the past to revel in Big Papi's tremendous impact on baseball's record books. I won't do it again now, though a quick search of this site will reveal some powerful examples. The Boston Globe's Peter Abraham does a nice job capturing 34 Things To Know About David Ortiz, including the fact that his 632 doubles are the 10th-most all-time and that only other players in history with 500 homers and 600 doubles are Hank Aaron, Barry Bonds, and Albert Pujols.
And There Was a Game, Too
The highpoint of the evening came first with the pre-game Ortiz ceremonies, but then the Red Sox powered themselves to a win in a series opener against the Angels, too. All three Sox hitters who came to the plate in the first inning came around to score. Boston has won their last 14 games when scoring three or more runs in the first inning.
Later in the game, Sandy Leon would tie his season-high for a third time with three hits and match a career-high with four RBI, aided by a two-run home run in the sixth inning. Hanley Ramirez also belted a two-run HR in the fourth inning, the 250th round tripper of his career. Ramírez on Friday reached base safely for a 24th straight home game, the longest active home on-base streak in the American League.
Rick Porcello collected his fourth win of the season, his first since May 23rd. Porcello worked 6.1 IP, allowing four runs (three earned), on eight hits with a walk and eight strikeouts.