The Red Sox ended the speculation this weekend, saying that Rafael Devers will make his big-league debut with the club when they take on the Mariners Tuesday.
Devers will join Xander Bogaerts  as the only Sox position players since 1980 to make their major league debuts before turning 21.
Sox President of Baseball Operations, Dave Dombrowski, presumably wheeling and dealing with the trade deadline just days away, told reporters after Sunday's game that "we think that [Devers] gives us as good a chance as anyone we've had a chance to acquire, for third base."
Dombrowski notes that other potential trades had high price tags that don't necessarily promise much more production than what Devers can provide. "The requests for some of the guys that would be minimally better for us have been very large," Dombrowski said.
Getting to Know Rafael Devers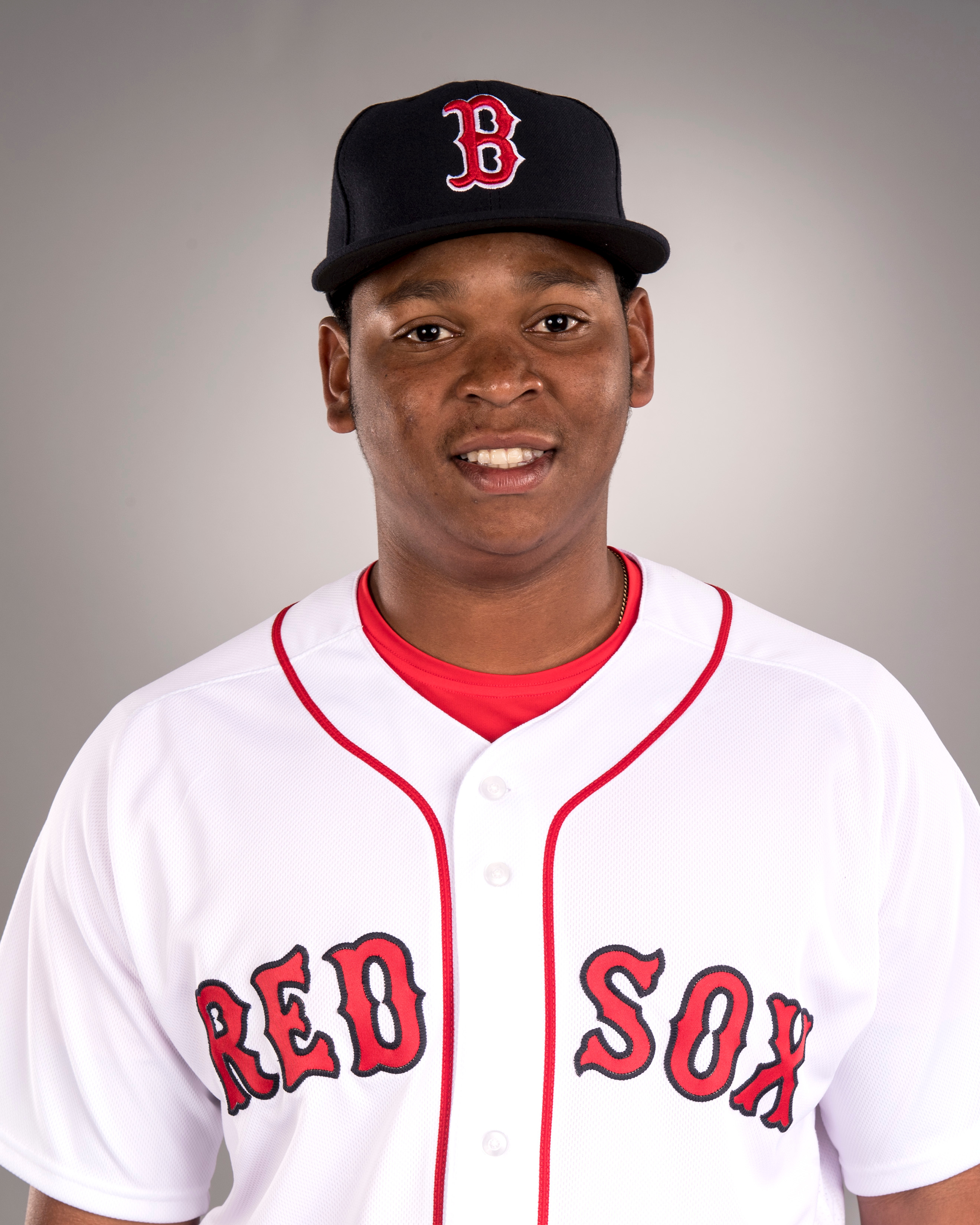 Devers, the Red Sox 2016 Minor League Defensive Player of the Year, hails from Sanchez, Dominican Republic and lives in Invivienda, DR during the off-season. He won't turn 21 until October 24. He's slashed .311 AVG/.377 OBP/.578 SLG in 86 minor league games this season, all but nine of them at Double-A Portland. In nine games at Triple-A Pawtucket Devers was 14-for-35 (.400) with two home runs.
In comparison to one-time Sox top-prospect Yoan Moncada, Double-A manager Carlos Febles told the Boston Globe's Alex Speier, Devers has advanced skills. "Moncada was basically one-dimensional," Febles says. "He had the ability to hit the ball the other way, but had a tough time recognizing pitches, especially the changeup. He couldn't recognize the changeup. Devers is the other way around."
The Sox signed Devers as an international free agent on August 9, 2013. He made his professional debut the next year batting 84-for-261 (.322) with 17 doubles, five triples, seven home runs, 57 RBI, 35 walks, and a .404 OBP in 70 games between the Rookie-level Dominican Summer League Red Sox and Gulf Coast League Red Sox.
Devers spent the 2015 season with Single-A Greenville, where he was named a South Atlantic League mid-season All-Star. Devers finished the season with second-most doubles (38) and total bases (208), and third-most extra-base hits (50) in the league. He spent the entirety of last season at High-A Salem, leading the club in games (128), runs scored (64), and home runs (11), and ranking third in the Carolina League for at-bats (503), fourth for hits (142), and fifth for total bases (223). His monthly batting average topped .300 in June (.313), July (.357), and August (.328).
The 6-foot, 234-pound lefty infielder entered the 2017 season ranked by Baseball America as the club's No. 2 prospect, as well as having the best infield arm in the organization. He was ranked the No. 18 prospect in all of baseball.
This past spring Devers was 3-for-22 (.136) with an RBI, two walks and three strikeouts in the Grapefruit League. He was included along with Brian Johnson and Henry Owens in the club's first round of cuts in mid-March.
Behind the Scenes in the Price, Eckersley Feud
Red Sox Nation was abuzz Monday morning with the Boston Globe's damning, behind-the-scenes look at last month's blow-up between David Price and Hall of Famer Dennis Eckersley, who was traveling with the team as part of the NESN broadcast crew.
According to Dan Shaughnessy's sources, Price laid in wait during boarding of the team plane, about midway down the aisle, to verbally confront Eckersley when he entered the cabin about what Price felt were derogatory on-air comments about Eduardo Rodriguez. The article paints a thin-skinned, nasty portrait of Price but also, I think, of Dombrowksi and Manager John Farrell, both of whom were on the same flight.
Red Sox offense has undoubtedly suffered since David Ortiz' retirement, but you can't help wondering if club house leadership left with Ortiz, too.
Unscientific though it may be, sentiment around Red Sox Nation seemed to be running against Price and for Eck. For his part, though, outspoken former Sox ace Curt Schilling tweeted doubts, saying of Shaughnessy, "no one ANYWHERE on this team would 'confide' in this clown."
I can assure you that 94.6% of this article is speculated bullshit. No one ANYWHERE on this team would 'confide' in this clown, ever.

— Curt Schilling (@gehrig38) July 24, 2017