The outstanding final year for David Ortiz shouldn't overshadow the contributions to the Red Sox up and down the line up and, indeed, among some of the pitching staff, too.
As the penultimate month of the 2016 season draws to a close, Boston remains in contention, thanks in large measure to its prodigious offensive strength. The Red Sox still lead the major leagues in batting average, on-base percentage, and slugging percentage. Consequently, they also lead in hits, runs scored and runs batted in.
Ortiz crossed the 100 RBI milestone this past week for the 10th time in his career. As of this writing he's on pace for 125 runs batted, which would stand as his fourth most in a single season. That he's doing it in his age-40 season is all the more remarkable. Papi's top run production came in 2005, when he was responsible for 148 RBI or fully 17.1% of the club's total production (863 RBI).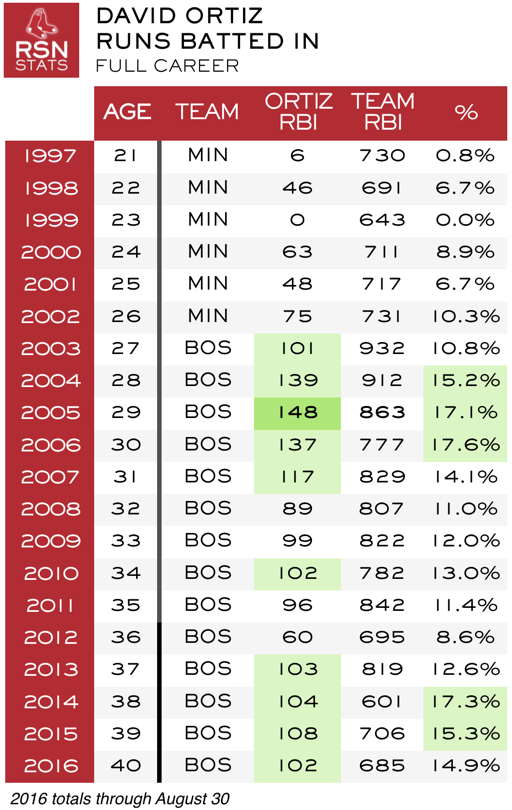 Spreading the Load
Ortiz' RBI contribution to the Sox in 2016 is just shy of 15% of the club's total run production. Thirteen other MLB teams this season have received 15% of more of their total production from their RBI leader. That's a substantial uptick from last season, when only six clubs had that many of their runs coming solely from their RBI leader.And while Ortiz is Boston's leader for RBI (and doubles, home runs, walks, and OPS), the Sox, unlike some other teams, haven't had to rely upon him solely for getting runs on the board.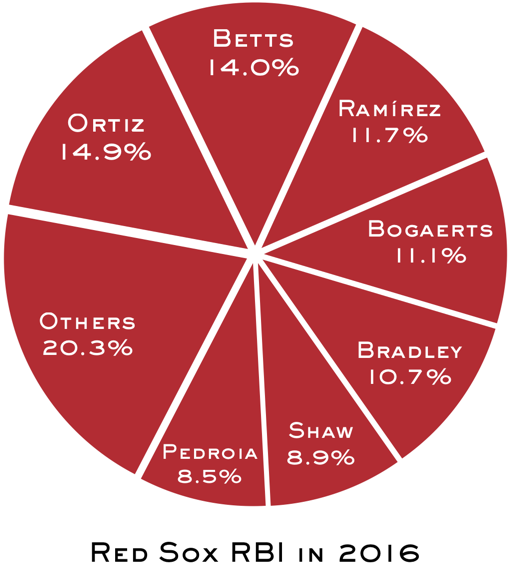 The 2016 Red Sox are the only major league club with four players (Mookie Betts, Xander Bogaerts, Hanley Ramirez, and Ortiz) to have 75 or more RBI this season. Three clubs, the Cubs, Reds, and Mariners, each have 3 players with at least that many RBI this season.
It's impressive to see one player have such an impact on a club, but when it happens, it underscores the weakness that such reliance can create.
Sole Producers
Across all of baseball, the Angels have relied most on their RBI leader, Albert Pujols. To date, he's responsible for nearly a fifth of Los Angeles' run production this season, highlighting his nearly irreplaceable importance to the club overall. Pujols and Mike Trout are the only Angels this season with at least 75 RBI.
Of particular note to Boston fans looking ahead to an Papi-free lineup in 2017 is free-agent-to-be Edwin Encarnacion. His 106 RBIs account for more than 17% of Toronto's total run production in 2016. Signing Encarnacion to Boston would simultaneously power the Sox lineup and hand a blow to powerful division rival. Encarnacion, a three-time All Star, has collected at least 98 RBI in each of the last five seasons and, focused no doubt by his impending free agency windfall, is just five from matching his career high of 111 RBI in 2015.
RBI Team Effort
When it comes to the importance of a single contributor, the Red Sox reliance on Ortiz puts them in the middle of the pack.
Noteworthy, though, are clubs like the Pirates, Tigers, Giants, Mets, and especially the Cardinals.
To greater or lesser degrees, these teams are all in playoff contention, but none have relied on any one player to deliver a high percentage of their total runs.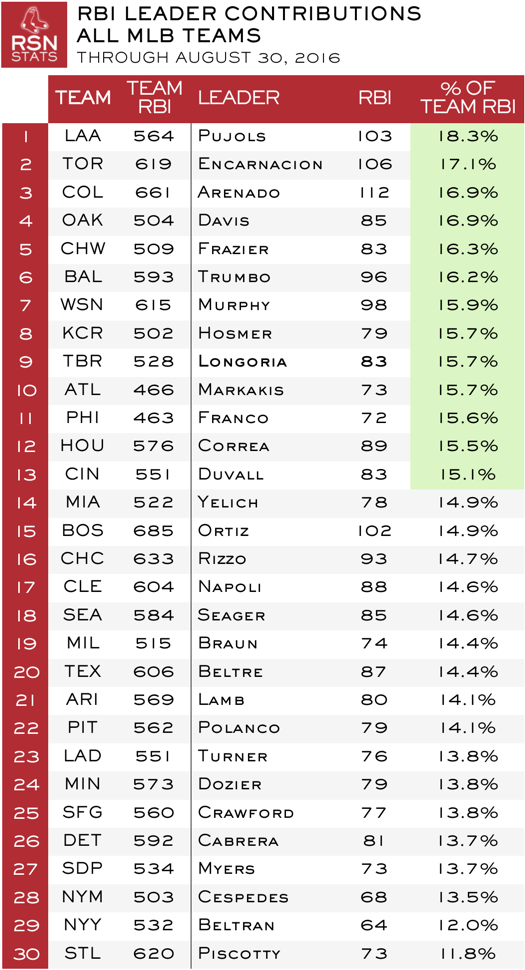 In fact, St. Louis has scored the fourth most runs in all of baseball but its RBI leader, Stephen Piscotty, has accounted for just 73 of them, or less than 12%. Instead, the Cardinals load is spread among six players with 50 or more RBI this season.