As Eduardo Núñez unapologetically explained after CC Sabathia memorably griped about Red Sox
bunting in the August 31 game, the 2017 Red Sox aren't build for the long ball. "We don't have any power," Núñez said. "We have to work. We have to bunt. We have to hustle. It's our game."
After years of enjoying a mighty, oftentimes record-setting offense, Red Sox Nation has had to embrace a 2017 team with strong pitching but a spotty, on-again/off-again offense. The ability is there, but it isn't always on display.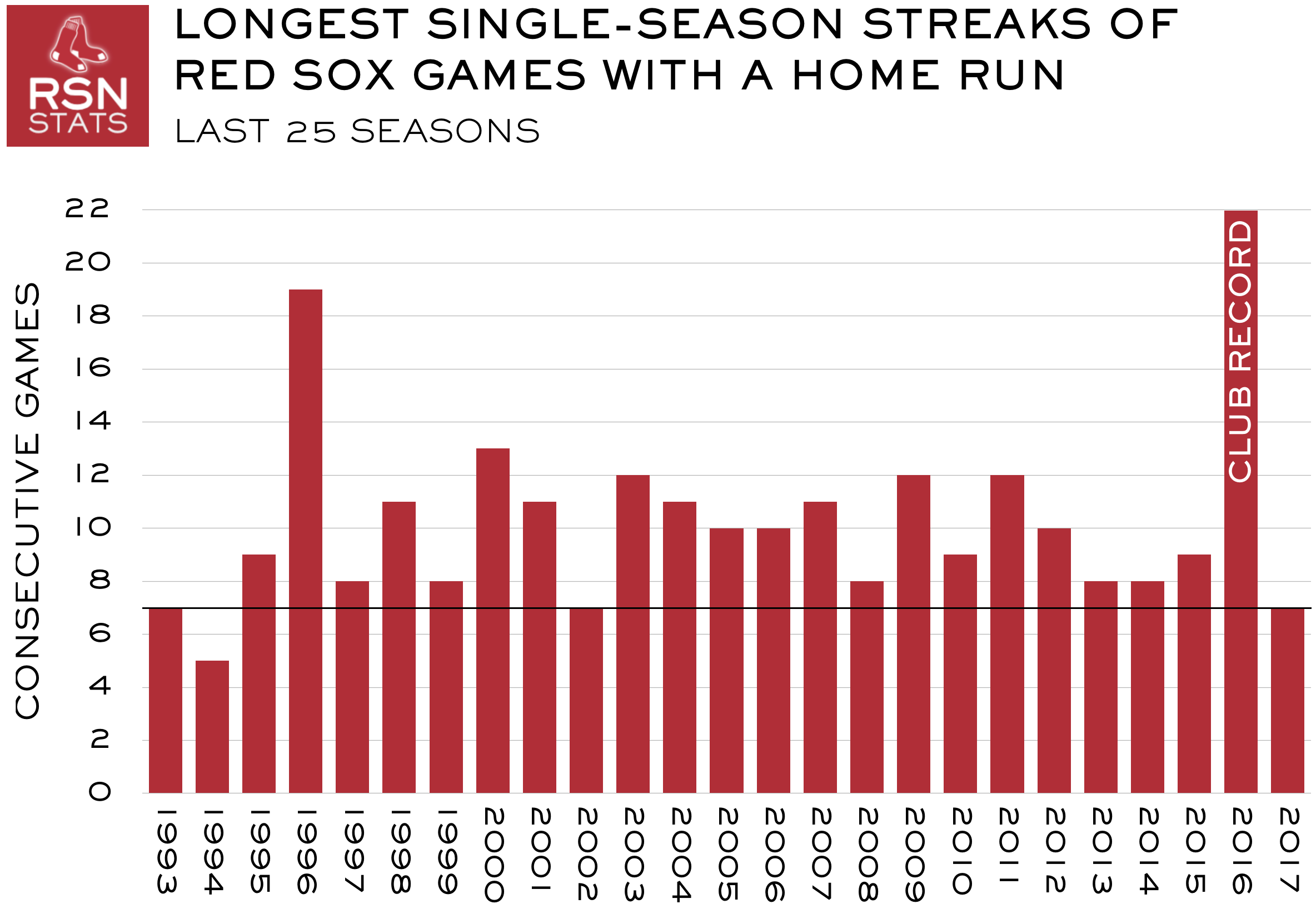 This weekend the Red Sox will take on the 70-71 Rays for three games at Fenway. No pushovers, the Tampa Bay team starts the weekend 3½ games out of contention for a wild card berth. Like the Red Sox, the Rays are 6-4 for their last 10 and 10-10 for their last 20 games.
More significantly, the Rays are slugging .473 over the past two weeks, sixth best in the American League. The Sox, by comparison, are at just .337, the AL's lowest slugging percentage in that time.
Tampa's 17-Game Home Run Streak
Tampa Bay's strong SLG is in part thanks to its recent home run production. The Rays enter this weekend's series riding a 17-game HR streak. It's the longest such active streak in baseball and ties them with the Dodgers for second longest in baseball this season after 19 games by the Astros (May 23-June 11).
The Rays' current 17-game HR streak is tied for the longest single-season streak in club history (also April-May 2013). The only longest such streak was 21 games split between the end of the 2015 and beginning of 2016 seasons.
The Red Sox, who've managed a HR streak of no more than seven straight games this season (May 4-11), are running out of games to approach anything close to what they did last season. In 2016, Boston mounted separate 10-, 11-, 12-, 15-, and 22-game streaks with a HR.
Last season's 22-game streak of games with a home run was a Boston club record.
This year's seven straight games with a home run is the smallest such streak for a Red Sox team since 2002 (also 7). In the past 25 seasons, the only smaller such streak with five straight games in 1994.
The Sox have gone with a home run in four straight games this season (April 8-11 and September 2-5). The only other American League team with a longer such streak during 2017 is the Indians (five games, June 25-29).
Red Sox pitching has allowed an opponent home run in 100 of the club's 140 games, tied for 10th most in the major leagues this season.