Ironically, though spring just started on March 20th, spring training is over for the Red Sox, who finish the 2016 exhibition program at 14-18-1.
Not sure how you feel about spring training games. No doubt, it's good to hear the crack of the bat after a long off-season, but the games themselves are mostly unfulfilling.
Even these last two games of the exhibition slate were mostly hollow affairs, save for the uniqueness of playing them in Montreal's cavernous Olympic Stadium. The last time the Red Sox played there was a Tim Wakefield start on July 17, 2001, an 11-7 loss that featured home runs from Scott Hatteberg, Trot Nixon, and Manny Ramirez.
No current Red Sox players ever appeared in a a major league game at Olympic Stadium. Only 28 active players (including David Ortiz) were even in the major leagues when the Montreal Expos last played there in 2004.
Your correspondent toured Olympic Stadium in the late 1980s, but I didn't get to see a game, unfortunately. Coming from Boston at the time, I marveled at its size and, even then, its anachronistic "futuristic" architecture, but also at its soullessness that's so contrary to the people and architecture of its environs.
Anyhow, enough of that.
Spring Training Wraps Up
Before heading to Montreal for the weekend, the Sox finished their 5th spring at what's officially called the Fenway South Spring Training and Player Development Complex in Fort Myers, Florida. The club sold out all 15 of their home games there this season.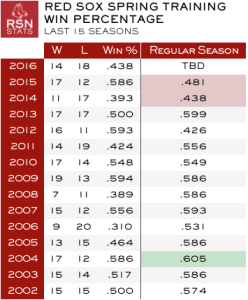 At 14-18-1, the 2016 Red Sox finished with a .438 win percentage, though any correlation to that and real-world play is difficult to find, though each of the World Championship teams since 2004 got at least to the .500 mark in their respective camps.
Still, drawing a connection isn't worth the effort. The World Series-bound 1975 Red Sox, who finished atop the division with 95 regular season wins, were an unfathomable 1-20 that spring.
2016's spring record lands the Sox toward the bottom of the Grapefruit League standings, dwarfed by the strong performances of the Nationals, Blue Jays, Twins, Tigers and Astros.
On to Cleveland
NESN's Tom Caron said it repeatedly on Saturday, the Red Sox opener in Cleveland is "weather permitting." Right now the forecast calls for a strong chance of snow, a brisk northerly wind and 35ºF conditions at game time. A chance of rain exists all week in Cleveland, so the clubs may have to just tough it out.
The Sox have opened a season against the Indians three times before (1962, 1977, and 1979) but always in Boston at Fenway. This is the first Red Sox season opener in Cleveland.
Red Sox ace David Price, 18-5 with a 2.45 ERA last season between the Tigers and Blue Jays, will make his fourth straight Opening Day appearance where he owns a 2-1, 2.48 ERA record.
Price will be the first pitcher to make his Red Sox debut with an Opening Day start since David Wells in 2005. Since 1979, only other pitcher to do that was Pedro Martinez in 1998.
The Indians will counter Price with Corey Kluber. He was 9-16, 3.49 ERA in 32 starts last season. He owns a 1-2, 4.91 ERA record against the Red Sox in seven career games, six starts.