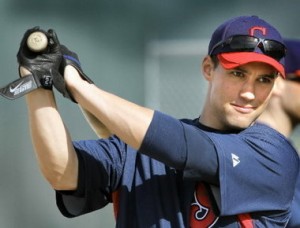 The Red Sox signed 3-time All-Star Grady Sizemore to a one-year, $750,000 deal recently, though most reports say he can make up to $6 million this season via incentives related to play time. That seems a smart business move for the club given that Sizemore hasn't played in the major leagues since September 22, 2011 due to a variety of injuries.
Red Sox scouts, no doubt, saw a lot of potential in the once fast and powerful Sizemore as he worked his way back to form. With him signed there's better depth in the outfield and a counterbalance to Jackie Bradley, Jr., whose readiness for full-time work at the major league level has been questioned.
Here's what we know about the 6′ 2″ lefty Seattle native. This will be Sizemore's 9th MLB season. All 8 previous, starting at age 21, were with the Cleveland Indians. In 2006-07 he played in 162 games, though that diminished steadily, with appearances in just 33 games in 2010 and 71 in 2011.
Over his 8 seasons he's played in 892 games (705 of them going first in the order) batting .269 with a .357 on-base percentage and .473 slugging percentage. He has hit righty pitching at .288, lefties at .227. In 14 career games at Fenway he batted .203, his 3rd-worst average in any AL park. Over his 8 seasons no other player in the American League had both as many home runs (139) and stolen bases (134) as Sizemore, who also ranked 7th for most triples (42) among all outfielders in that time.
While not a splashy signing, some say this is a classic, new-look Red Sox deal with little risk and the potential for high reward. Sizemore's strong past and his willingness to sit out 2013 to prepare for this season may point to a player ready to for a big comeback year.