It has been a long time since the Red Sox shutout a single club in three straight games.
The surprising Red Sox, still in the cellar of the division, blanked the Orioles in three consecutive games this past weekend for the first time in the history of the clubs' match-ups.
It was just the 10th time in more than 100 seasons that the Red Sox have managed a club-record three consecutive games where the opponent failed to score. The last time was April 25-29, 2004 against the Yankees and the Rays.
Before the Orioles this weekend, the Sox have shutout a single club in three straight games just twice before and only once before at Fenway Park. On August 24-26, 1990, Boston won the back three of a four game set against the Blue Jays in Toronto with final scores of 2-0, 1-0, and 1-0.
You have to go all the way back to 1958 (and a team that doesn't exist anymore) to find the Sox' only other set of three game shutout wins at Fenway: September 19-21, a sweep over the Washington Senators with the final scores of 2-0, 2-0, 2-0.
MLB shutout history
Since 1914 the Cardinals and Orioles have had the longest streak of shutout wins, both clubs with streaks of five games each.
The Red Sox actually figured into the Orioles' historic streak, which happened late in the 1974 season. Baltimore swept Boston at Fenway in a doubleheader September 2nd (1-0, 1-0) and then a shutout Boston again on September 4 (6-0). From there, the Orioles went on to shut out the Indians in the first of four games at Cleveland (2-0, 1-0).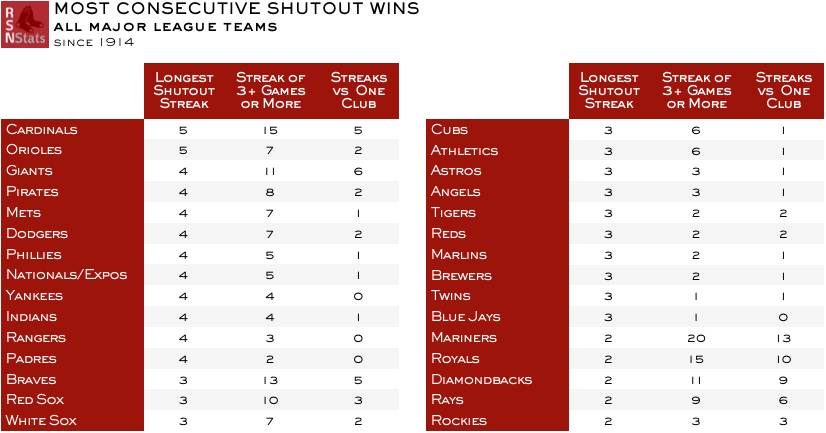 As shown in the table above, the Indians, Rangers, Orioles, and Yankees are the only American League clubs in the past 100 years with shutout wins in 4 or more consecutive games.