With still a whole of games left in the thrilling 2021 schedule, Major League Baseball today announced baseball's full schedule for next season. Here's the Red Sox calendar, which you can tap on for a bigger, printable version.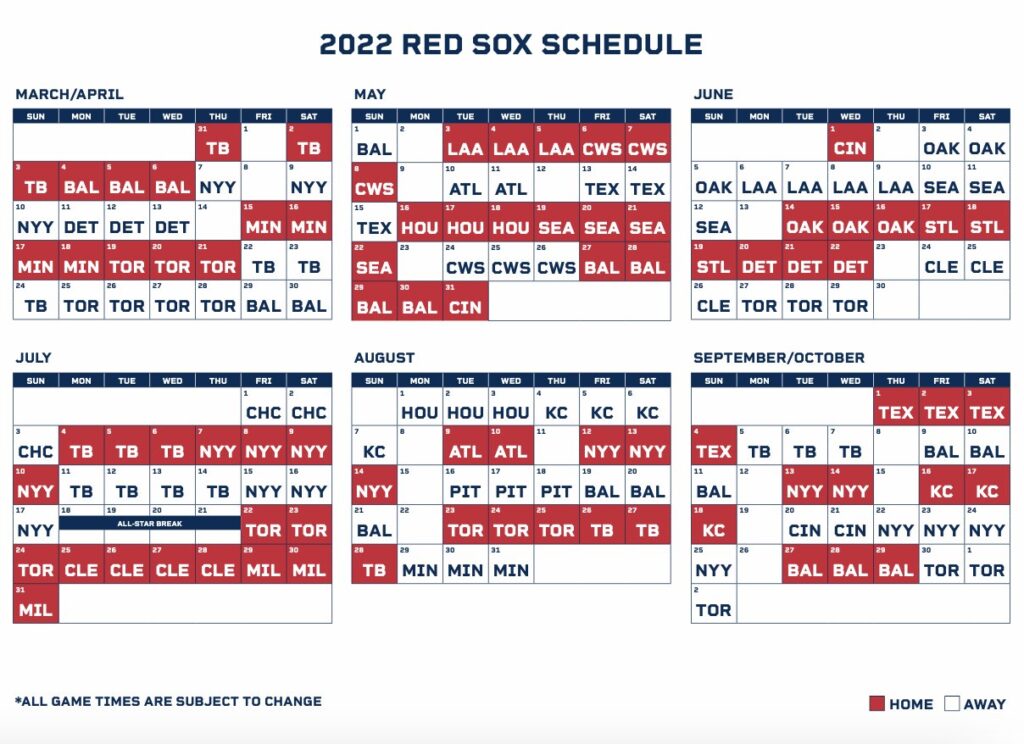 A few observations to note:
The Red Sox will open at home against the Rays on March 31 and finish on the road in Toronto on October 2. For Tampa Bay, it will be their first Opening Day at Boston since 2009.
The Yankees home opener on April 7 will be against the Red Sox.
Interleague games in 2022 will pit the American League East against some National League Central rivals. That means some rare match-ups for the Sox against the Pittsburgh Pirates, Cincinnati Reds, St. Louis Cardinals, Chicago Cubs, and Milwaukee Brewers, though there are also games against the NL East Atlanta Braves.
In regular season play, the Red Sox have faced Cincinnati just 13 times before, with the Sox going 12-1. Boston is 8-7 in 15 total games against Pittsburgh.
Boston will face the Cubs at Wrigley Field in the weekend series leading to July 4, but will be back at Fenway for Independence Day against the Rays. The Chicago series marks the first trip there for the Sox since 2012.
The traditional morning game on Patriots Day (April 18) will be against the Twins.