If you're blisteringly angry about how the 2021 Red Sox season finished you will likely remember the season as one of missed opportunity.
In that case, this won't resonate with you.
The days after the end of baseball are tough ones. The season, as Terry Francona once said, doesn't wind down, it just stops. And without a parade and trophy to divert our attention, the stop is jarring. The six month rhythm of daily games is gone and our attention turns to the long winter and uncertainties of off-season maneuvering.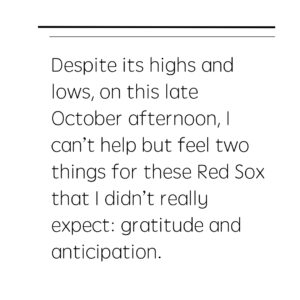 And yet despite the highs and lows, on this late October afternoon, I can't help but feel two things for these Red Sox that I didn't really expect: gratitude and anticipation.
No, they didn't achieve the ultimate prize, the one that only a single team can reach in any given year, but they delivered far more than anyone expected last spring. Back then, the very idea that the Sox—not the Yankees, Blue Jays, Rays or any of those powerful competitors outside the division—would be among the last two American League teams standing was little more than wishful thinking.
Through their ups and downs, Red Sox Nation was treated to a solid season of baseball. The thrill of being first in the division for for nearly half the season. The disappointment of losing that lofty spot only to persevere with clutch wins to reach the postseason, to send the Yankees packing, and, perhaps most improbably, to end Tampa Bay's season, too.
Front Office Earns Some Trust
We have all off-season to dissect what needs to change, but one thing seems clear: the much-maligned Boston front office earned some trust—and deserves some grace—from many corners of Red Sox Nation.
A deep drive into the postseason, one that ends two games shy of a World Season berth, isn't a fluke. It didn't just happen. In a rebuilding year, the 2021 Red Sox had everything they needed to defy the odds to get this close to hoisting a 15th league pennant.
We Sox fans are well acquainted with disappointing regular seasons. Most of us, though, have experienced thrilling postseasons. So this early exit stings, naturally. But I am grateful for what we saw in 2021 and find myself surprisingly rejuvenated for where these Red Sox go from here.