Much has already been said and written about the dearth of Red Sox home runs this season. Entering Tuesday's action the Sox have stroked just 27 home runs, despite hitting 10 over their previous four games. Boston's eight home runs on Saturday and Sunday were their most in back-to-back games since last July 20-21 when they also hit eight facing the Twins and Giants.
And yet despite the recent explosion in power, the Sox' 27 are the fewest HRs in the American League and the second fewest in all of baseball after the Giants (21). For the past 17 seasons (2000-2016), the Sox have averaged nearly 34 home runs over their first 31 games with a club high of 42 in that time for both the 2002 and 2010 seasons, but not anywhere near that this year.
Boston's near outage in dingers has impacted runs scored so far. The Sox' 138 runs scored as of the start of this week is the club's fourth fewest since 2000.
Sox Behind Club Averages Since 2000
But it's not just home runs. As the table shown here illustrates, despite a solid batting average and except for a few aberrant games, the 2017 Red Sox are tracking below club averages for most offensive categories since 2000. Even counting Mitch Moreland's MLB-leading doubles count, Boston's doubles through the first 31 games of the season is under 60 for just the fourth time since 2000.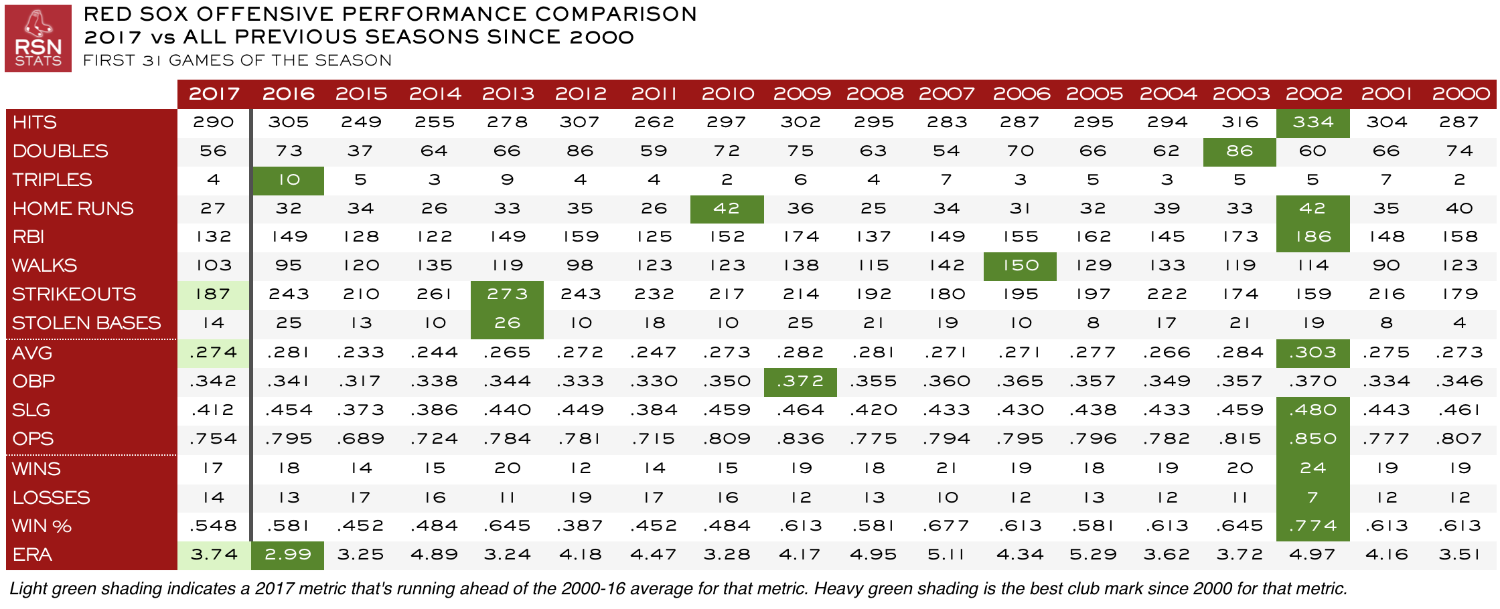 When they have come, Red Sox home runs have been slanted to solo shots. Nearly 60% of the club's 27 roundtrippers this season have come with the bases empty. Contrast that to the Yankees who have belted 48 home runs through Sunday's action with an MLB-best 65% of them coming with at least one man on the base.
Red Sox offense showed a strong uptick in the just-completed series against the Twins and, despite the loss to the Brewers on Tuesday, the club managed to tally seven runs on 12 hits. You might reasonably expect a win with that kind of production but on Tuesday it wasn't enough, as Drew Pomeranz coughed up five first-inning runs and relievers Heath Hembree and Ben Taylor allowed five more over just 1.1 innings of combined relief work.