It's early in the season (it's really not), it's only one series (it's really not). There are all kinds of ways to explain away the Red Sox mediocre year to date, but the fact is, right now it feels like a free fall inside Red Sox Nation.
On Saturday, the inexplicably lackluster Red Sox lost their fourth straight, playing with so little energy and excitement, it was difficult to muster enthusiasm even after they took an early 1-0 lead in the second inning against the Yankees. Unlike Friday's game, where the Sox were limited to just one run, Boston manufactured plenty of opportunities on Saturday. Over and over again, however, they were unable to cash in, going an atrocious 2-for-14 with runners in scoring position and losing 5-3 to New York.
Nevermind the indignities of losing to the Yankees who've played with gusto despite their premier players unavailable with injuries, the Sox were similarly roughed up by the Indians earlier in the week at Fenway. Cleveland was 1-6 when they arrived in Boston before taking two of three games from the Red Sox.
The Sox are at 29-29, a .500 record, a day into June, a full 9½ games from the top of their division. Over the current four game losing streak (their second such streak this season), Mookie Betts, Andrew Benintendi and J.D. Martinez have combined to go 9-for-46 (.196).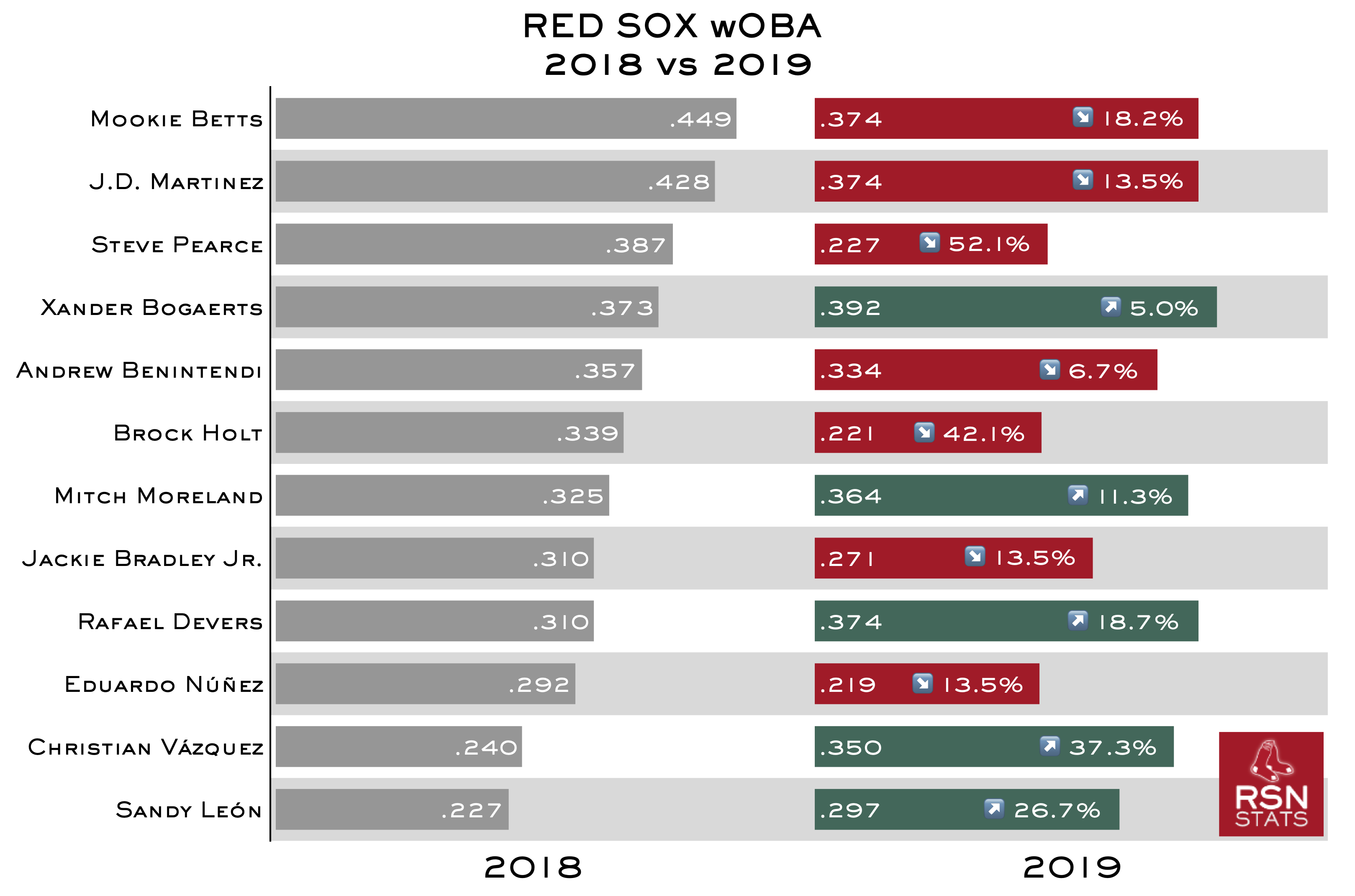 As measured by the key wOBA stat and shown in the above graphic, the Red Sox best every day performances compared with last season have been from Rafael Devers and Xander Bogaerts with solid contributions from Mitch Moreland and Christian Vázquez. Everyday plays like Betts, Martinez, Jackie Bradley, Jr., and to a lesser extent, Benintendi, have all regressed substantially.
Brightspot Devers, who wrapped up a career-best 11-game hitting streak with an 0-for-5 on Saturday, has upped his wOBA by nearly 19% compared to 2018. During his hitting streak he amassed an impressive seven straight games with an extra-base hit and a run scored, the longest such streak in club history for a player 22 years old or younger, besting the 5-game streaks of Jim Tabor (1939) and Hall of Famer Ted Williams (1939 & 1940).
Betts Back To Leadoff
Hoping to recapture some of last year's magic, Manager Alex Cora moved Betts back to the top of the order. "This morning I got up and I said, 'This is how we're going to roll,'" Cora told the media. "I just spoke to Mookie and I said, 'You're going to lead off the rest of the season.'"
The failed experiment had produced all but nothing with Benintendi 3-for-37 (.081) as the first batter of a game. Of the 17 major league players with 30+ first-of-the-game at-bats this season, none had fewer hits than Benintendi.
With baseball's draft coming up this week, Boston's front off will shift its attention to shoring up the Sagging Sox. Many teams have already positioned themselves as sellers, with the Royals, for example, indicating they're open to deals for anyone. What happens next will likely define the rest of this season and what this team will ultimately look like in 2020.