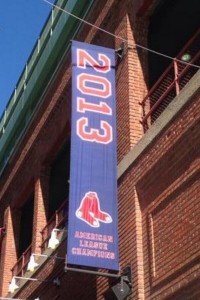 A memorable series and a very memorable last game. With just 5 hits, including an improbable 2nd Red Sox grand slam of this series, Boston has defeated Detroit and the Red Sox are the 2013 American League Champions. It's their 13th AL Pennant, the first since 2007 and their 3rd time ever clinching the victory at home, as they did in 1986 and 2007.
Victorino's 7th inning blast was the 56th grand slam in MLB postseason history and just the 22nd of those ever to give a team the lead. It was the 5th in Red Sox postseason history, the 3rd-most of any team behind only the Yankees (11) and the Braves (6). Victorino joins Jim Thome as the only players with two grand slams in their postseason careers. Shane's other came in 2008. Thome has his in 1998 and 1999.
Victorino's and David Ortiz' grand slam six days earlier were two of just 5 to come in the late innings of an ALCS game. Before Ortiz' the last such grand slam was a walk-off by the Rangers Nelson Cruz on October 10, 2011 of ALCS Game 2, also vs the Detroit Tigers. Coincidentally, Mike Napoli was on base that night and scored on the blast.
Lots more to tell you about, about this series and about the World Series ahead. But for now, let's just enjoy this moment. Congratulations Red Sox Nation!