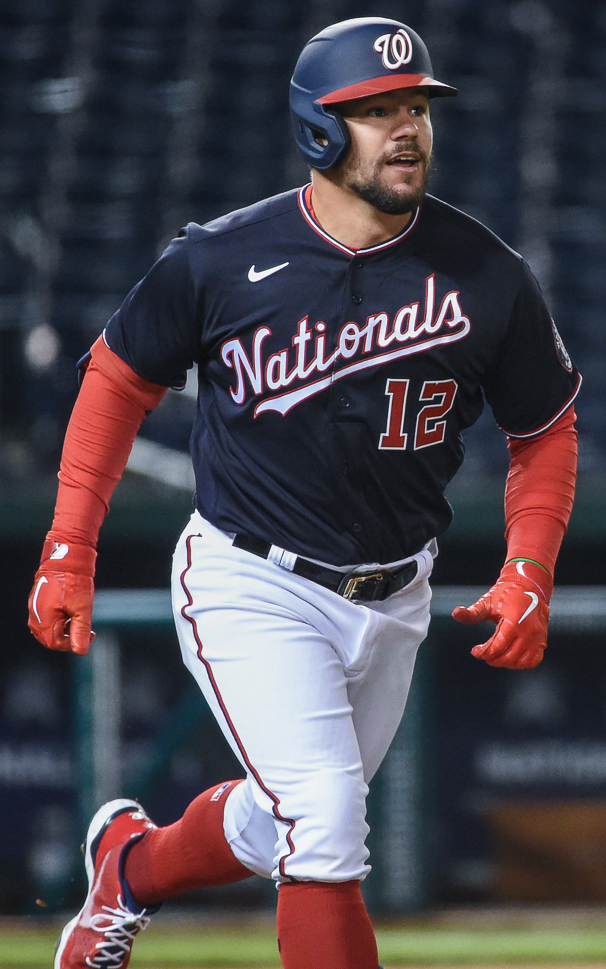 With a day to go before the Trade Deadline, the Red Sox have added Nationals hard-hitting outfielder Kyle Schwarber to the team.
In exchange, Boston sent pitching prospect Aldo Ramirez to Washington. For room on Boston's 40-man roster, the club designated reliever Brandon Workman for assignment.
The Sox beat out reports of interest in Schwarber by the Yankees, Blue Jays and Giants.
In the 28-year-old Schwarber Boston gets a coveted lefty batter—and a good one, at that. The Ohio native, who has seven years of big league experience, has batted .253 AVG with a .340 on-base percentage and a team-best .570 SLG with the Nationals in 2021.
Schwarber is currently on the Injured List with a hamstring strain.
Prodigious production
Schwarber was a first-time All-Star this season and also earned his first-ever National League Player of the Week honors on June 20. His 149 OPS+, a measure of offensive production that accounts for external factors like ballparks, indicates that he has performed 49% better than the league average in 2021.
Schwarber's full-season .382 wOBA, exactly that of Red Sox slugger J.D. Martinez, is 11th-best among all Major League lefties in 2021 (minimum 300 plate appearances). His .398 expected wOBA (xwOBA) is 10th-best among that group. Rafael Devers ranks 8th-best at .399.
Among all MLB batters this season Schwarber is in the 97th percentile for barrel percentage. Just three percent of all players have had a higher percentage of plate appearances end in a barreled ball. That's significant because barreled balls, which are defined by a specific combination of exit velocity and launch angle, result in a far better average and slugging percentage than non-barreled balls.
According to Statcast, Schwarber is also among elite batters this season for expected slugging percentage (95th percentile), expected wOBA (94th), hard hit percentage (92nd), and average exit velocity (90th). His average exit velocity has been among the game's elite 10 percent in each season since 2019.
Over a torrid month of June, Schwarber tied a Major League record by connecting for five home runs over two games, a stretch that included his first-ever three-homer game. Later in the week he recorded another two-home run game to become the seventh player in baseball history with eight or more home runs over a five-game span, one shy of the record held by Shawn Green who hit nine home runs in 2002.
Before joining the Nationals on a one-year deal for 2021 (with a mutual option for 2022), Schwarber spent six seasons with the Cubs, who drafted him in 2014. He was just the third Cubs lefty to record multiple 30-home runs seasons, joining Hall of Fame Billy Williams and Anthony Rizzo. His 130 home runs since 2017 ranks third-most among all Major League lefties after Joey Gallo (138) and Matt Olson (130).
Ramirez heads to Washington
To acquire Schwarber, the Red Sox sent 20-year-old pitching prospect Aldo Ramirez to the Nationals. Boston acquired Ramirez as an international free agent from from Aguascalientes in the Mexican League for $550,000 in April 2018. Ramirez, 20, features a lively fastball at 92-95 MPH and a good changeup that has registered 86-88 MPH according to SoxProspects.com.
At A-level Salem this season Ramirez was 1-1 with a 2.03 ERA in eight starts. He is currently on the Injured List with right elbow tendinitis
Welcome Schwarber to Red Sox Nation.
Schwarber graduated from Middletown High School in Ohio and attended the University of Indiana, where he was a two-time First-Team All-American. At the point of his selection he was the highest draft pick in Indiana baseball history. He played in the Cape Cod League in 2021.
Welcome Kyle and his wife, Paige, to Red Sox Nation. He's on Twitter at @kschwarb12.