On any given day, you really don't know what you'll see in a ballgame. On Tuesday, you wouldn't likely have expected to witness the kind of offensive exhibition Connor Wong put on. But there it was, a 4-for-4 night with two home runs and a double that were difference-makers in Boston's 7-6 win over the Blue Jays.
Wong doesn't look like either a prototypical catcher or slugger. But he's been impressive behind the plate, nailing six potential base stealers, the fourth-most in the Majors. And his bat has shown signs of pop, despite a .241 AVG entering Tuesday's action.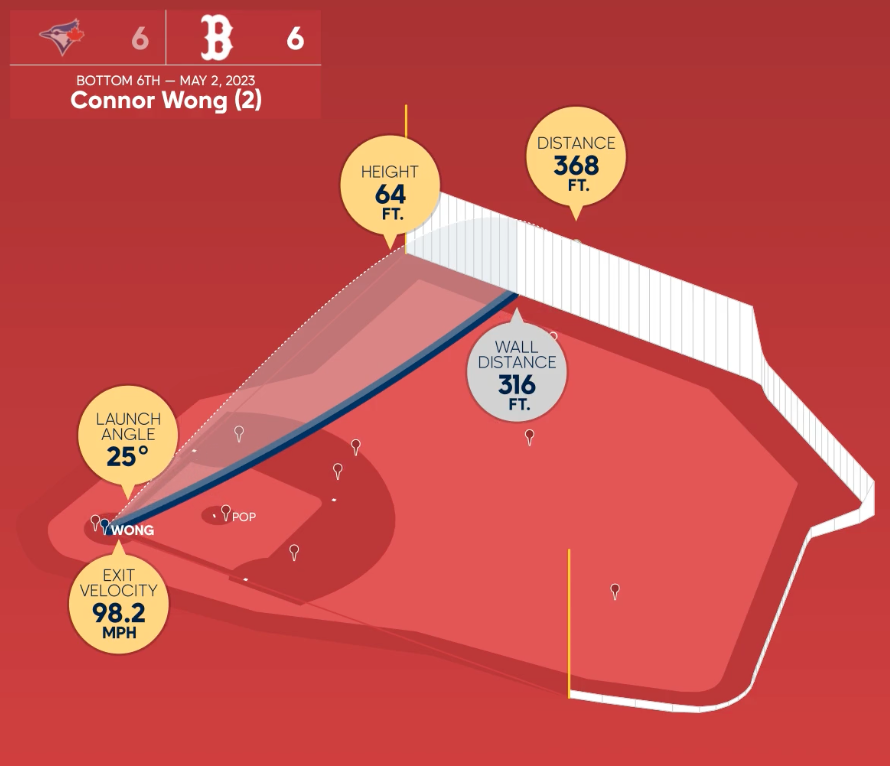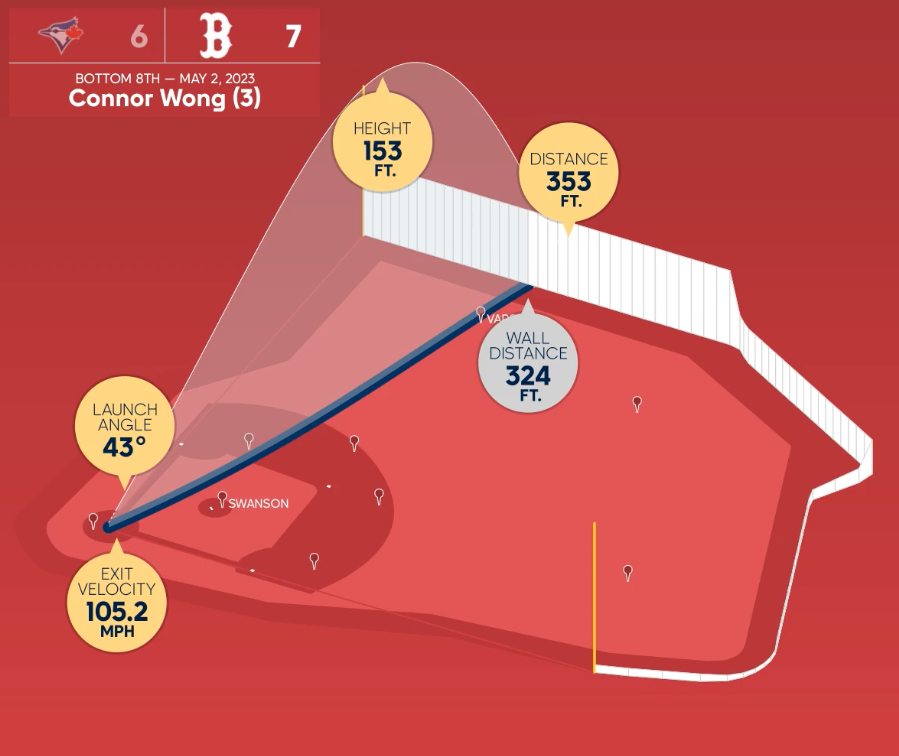 Wong's first at-bat of the game was a double, so solidly scorched that it was projected to have been a home run in every Major Leagues park but Fenway. Then, after singling in the fourth inning, he stroked a game-tying solo home run in the sixth and another solo blast for a one-run lead in the eighth.
Wong's production made the Red Sox the only American League team (and just the second Major League team) to have multiple players record 4-hit, 2-home run games this season. Wong joins Adam Duvall, who had a similar game on April 1 against Baltimore. The only other team to do that this year is the Dodgers, with J.D. Martinez and James Outman.
Wong is just the fourth Sox catcher in franchise history with four or more hits and two or more home runs in a game, the first since David Ross on April 26, 2013 against Houston. Jason Varitek did it three times from 1999 to 2003, and Hall of Famer Carlton Fisk had such a game in 1975.
The Red Sox have gotten good production from the bottom three batters in the order so far this season. Wong contributed to those total in a big way on Tuesday.
The last Boston batter with a four-hit game, including three or more extra-base hits and two or more home runs from the No. 8 or No. 9 spot in the batting order was Jackie Bradley, Jr. on August 15, 2015 against Seattle (2 HR, 3 doubles).
Wong is the first Red Sox batter with a game-tying and go-ahead home run in the same contest since Mitch Moreland on August 9, 2020, also against the Blue Jays at Fenway Park. He's the first to do it from the No. 8 or No. 9 spot in the batting order since Cody Ross on April 23, 2012 at Minnesota.
Before Wong, the last Boston batter age 26 or younger with four or more hits, including three extra-base hits and two or more home runs was Xander Bogaerts on August 1, 2019.
Additional Game Notes
Tanner Houck was tagged for six Blue Jays runs on Tuesday that ended his streak of 25 consecutive starts with no more than three earned runs. The streak had been the longest to start a career in Major League history.
On a night the bullpen was short on help, Houck returned for a shutdown sixth inning after allowing all six Toronto runs in the fifth. After the game, Manager Alex Cora credited Houck for understanding what he had to do to help secure a win. "I think he grew up a lot today, understanding that we were very short in the bullpen and we didn't need five [innings], we needed six, and he did [it]," Cora said.
With 14 Sox hits on Tuesday, Boston has now recorded eight games with at least a dozen hits this season. No MLB team has had more.
With a home run, Masataka Yoshida has now hit in 12 straight games, going 20-for-46 (.435) with four doubles, four home runs, and 13 RBI.
Rafael Devers continues to struggle, going 0-for-4 on Tuesday and 6-for-36 (.167) over his last 10 games. With two outs this season, Devers has gone 4-for-31 (.129).