For stats lovers, David Ortiz in his final season is the gift the keeps on giving. It seems that in every game, he keeps adding to impressive collection of milestones. It's almost impossible to keep up. What we're witnessing, fans, regardless of how the voters see it five years from now when he first becomes eligible, is a Hall of Fame caliber player. And he's right here, in front of our eyes, almost every night.
Assuming he stays healthy, Big Papi stands to finish his final season with 183 hits (one more than his career high of 182 in 2007), including 66 doubles (his most ever), 39 home runs (fourth best in his career and his most since 41 in 2007), 77 runs scored, 89 walks (fourth best in his career and most since 2005), and 133 RBI (fourth best in his career and most since 2006). He'll also have 79 strikeouts, fifth fewest in any season of his career where he played in more than 82 games.
OPS Plus
Ortiz' OPS+ after 84 games this season stands at a career-best 184. We haven't talked a lot about OPS+ on RSNStats, but it's an interesting and useful metric that adjusts traditional OPS (on-base percentage plus slugging percentage) for different ballpark factors. OPS can be far more meaningful than AVG (more about that another time), but OPS+ is even better for two reasons. First, because of its normalization adjustments for ballparks, and secondly, because it's expressed as a simple percentage. An OPS+ of 100 means the player is operating at league average. Papi's 184 OPS+ means he's operating at 84% better than league average.
No major leaguer with at least 100 at-bats this season has a better OPS+ than Ortiz. By this measure, Papi is playing better than Mike Trout (172), better than Josh Donaldson (165).
And he's 40 years old.
With a half-season left to play, Ortiz is closing in on Ted Williams' all-time best OPS+ for a player 40 years of age or older. Williams' 1960 OPS+ of 190 has stood the test of time for 56 years.
40 is the new 34
What a way to wrap up a career. At the time this is being written, David Ortiz has 34 doubles through just more than half the season completed. That's one shy from Sam Rice's MLB single-season record for doubles by a player aged 40 or above, with as many as 78 regular season games to go.
With that caveat of continued health throughout the season, Ortiz' current .677 slugging percentage and 1.106 OPS are the best single-season marks for 40+ year old players ever. He's among the top four such players for batting average, and among the top seven for on-base percentage.
At this current pace, Ortiz will challenge Darrell Evans' 1987 tally of 34 home runs, the most ever for a "senior" player. He'll need 25 of those to tie Carl Yastrzemski at #2 on Fenway Park's All-Time Home Runs List (Ted Williams is tops with 248 career home home runs there).
Fenway Faithful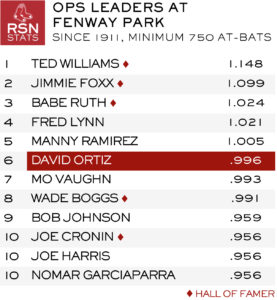 Ortiz is in the Top 10 of nearly every All-Time Fenway list. In the long history of the ballpark, Papi is already has the sixth most at-bats (3,546), sixth most runs scored, seventh most hits, third most doubles, third most RBI, and fourth most walks.
Among the six players ever to amass 3,500 or more at-bats at Fenway, Ortiz ranks fourth in AVG (.311) and second to Williams in both OBP (.408) and SLG (.587).
The fans at home expect Papi to come through in clutch situations, each with their own memories of their favorites (for me, his grand slam in 2013 ALCS Game 2 never gets old). Why shouldn't they expect it? For many, he's the greatest clutch hitter in their lifetimes with .502 career SLG in Late & Close situations, among the top 20 players with over 1,000 such at-bats in baseball history.
Designated Greatness
As a designated hitter, no one is even close.
Ortiz has the most home runs (467) of any DH ever. His longevity, resulting in more than 7,300 DH at-bats, has yielded the most hits (2,118), most doubles (543), most RBI (1,511), most total bases (4,098), most walks (1,135), and most intentional walks (187) of anyone who has ever played the role. Papi's 1,215 runs scored as a DH are 332 more than second place Edgar Martinez.
We'll Remember Him
Now is the time, not just in Game 162, to take stock of this amazing player and savor this gift of a season. Now's the time to acknowledge David Ortiz's place in franchise history. Now's the time to enjoy this one last season with a Red Sox player who we will remember for the rest of our lives.