RSNStats, for one, is glad our long national nightmare is over. David Ortiz has a contract extension and options that will, as Owner Henry says, gives us all "near certainty that David Ortiz will finish his career in a Red Sox uniform, which is something we have all wanted and that we are all proud of." Henry went on to call Big Papi exactly what he is, "[an] ambassador of our game…as he continues on this road to Cooperstown."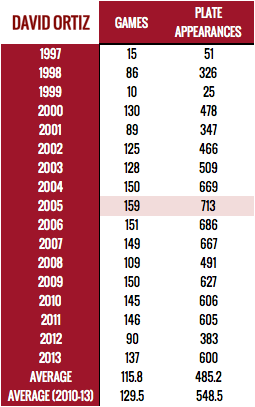 More details from the extension are coming out. Basically, after a guaranteed 2014 and 2015, the 2016 season starts at $10 million but increases based upon his number of plate appearances. If he makes 425+ plate appearances in 2015 he qualifies for a 2016 contract worth $11 million. It goes up from there:
475 plate appearances –  $12 million
525 plate appearances – $13 million
550 plate appearances – $14 million
575 plate appearances – $15 million
600 plate appearances – $16 million
Over the past four seasons Ortiz has averaged 129.5 games and 548.5 plate appearances.
WEEI has more details about how the extension works. For those who can't get enough, here's more from the Interwebs: Gordon Edes on ESPN's web site talks about the contract and David's lack of Spring Training production. NESN has some quotes from Big Papi on the hunger to win is still there for him. New York Daily News says David has now joined the "pantheon of Boston's most-beloved sports stars, a group that includes the likes of Bobby Orr, Larry Bird, Bill Russell, Tom Brady and Ted Williams."