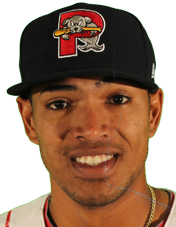 Red Sox Minor League infielder Deiner Lopez was one of seven players suspended by Major League Baseball on Monday for violations of the Minor League Drug Prevention and Treatment Program. The 50-game suspension without pay came after Lopez tested positive for the stimulant Amphetamine.
Lopez, 23, played 92 games between Single-A Salem (19 games) and Double-A Portland (73 games) this season going 76-for-305 (.249) with five home runs and 75 strikeouts in 92 total games. The Venezuelan native made his professional debut with the Dominican Summer League Red Sox in 2011 after being signed as an international free agent in September 2010.
Other minor leaguers suspended on Monday: Yankees pitcher Rodrigo Garcia, Athletics second baseman Justin Jones, Brewers pitcher Cristian Sierra, and free agents Yeison Estevez, Andres Martinez, and Adolfo Molina.