After a 3-3 road trip that included an embarrassing 1-3 series against the Oakland A's, the Red Sox have returned home to Fenway for three-game sets against the Rangers and Mariners beginning Tuesday.
The 1-3 weekend series against the Athletics to end the road trip was especially vexing coming after a two-game sweep of what were the first place Cardinals. On Sunday, the Red Sox were in danger of their first-ever four-game sweep by the Athletics in Oakland. The A's swept the Sox in four games once before at Fenway in 1971.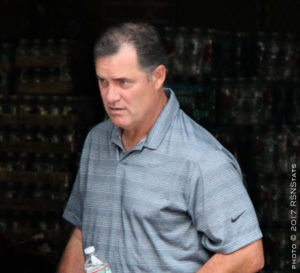 The road trip leaves the Sox just above .500 at 22-21, a full seven and a half games behind the first place Yankees, and six games behind Baltimore.
The Sox team batting average is .267 (compared with .282 for 2016), still good enough for third best in baseball after the Nationals (.274) and Yankees (.269). Boston's slugging percentage, meanwhile, is an anemic, below average .408 (vs an MLB-best .461 last season), speaking to the club's power outage when it comes to meaningful production.
The Red Sox team OPS+, a useful measure of on-base percentage plus slugging and accounting for variables in ballpark condition, is 98. The majors' best teams, the Astros and Yankees, are at 118 and 114, respectively, indicating their performance is 18% and 14% better than average.
Not surprisingly, all of this is leading to easy speculation once again that Manager John Farrell's job is in jeopardy. FOX Sports Ken Rosenthal wonders who Sox Baseball President Dave Dombrowski might turn to for a Farrell replacement. Rosenthal notes that the best choice may have been former Sox bench coach Torey Lovullo, who left Boston in the off-season and has so far managed the Diamondbacks to a second place position (27-19) in the National League West.
Rosenthal spotlights two incidents that indicate Farrell may have lost control of his club: the bizarre and prolonged issue involving Dustin Pedroia and Orioles Manny Machado and the more recent heated dugout discussion between Farrell and the struggling Drew Pomeranz.
Now some additional news and notes of particular interest to Red Sox fans:
Ten years ago, in 2007, the Red Sox won 70% of their first 40 games (28-12). The fact is, three of the last four teams to win that many of their first 40 also won the World Series: 2016 Cubs (29-11), 2007 Red Sox, and the 2005 White Sox (28-12). Only the 2010 Rays (29-11) missed the mark. This season, it's the Astros (29-12) that are looking for their first-ever win in the Fall Classic.
Longtime Sox fans might remember the name Joe Lahoud, who patrolled the Fenway outfield from 1968-71. The New England native went on to play with the Twins, Angels, Rangers, and Royals before retiring in 1978. The now 70-year-old Lahoud is in the news again, suing his former employer, New York-based Document Technologies LLC, for age discrimination after, to hear Lahoud's story, some outrageous behavior on their part. Employers "shouldn't be able to displace workers because of discrimination of any kind," Lahoud recently told the Boston Herald.
Bill Ballou of the The Worcester Telegram & Gazette caught up with another, albeit more recent Red Sox veteran, Dave McCarty, who joined the club in 2003 and retired after being designated for assignment in 2005. "Boston was by far my favorite place to play," McCarty told the newspaper. "The pressure of playing for the Red Sox didn't bother me. I loved that, thrived on it. In Boston, you either love it and embrace it, or you just fold."
On Sunday, Mitch Moreland homered in his third straight game for a new career high. Moreland's 14 home runs at the Athletics' Coliseum are the most by a visitor there since 2010. The last Red Sox player to belt a home run in three or more consecutive games was David Ortiz last season (also three games). If Moreland can hit a home run on Tuesday he'll be the first Boston player with four such games since Adrian Gonzalez in 2011. The club record since 1913 is a HR in five straight, most recently by Jose Canseco in 1995.