Despite a mild winter here in the Northeast (at least so far), the calendar has a ways to go before it's officially spring. All the same, your World Champion Boston Red Sox (and that has a nice ring to it, doesn't it?) are in camp at Fenway South in Florida.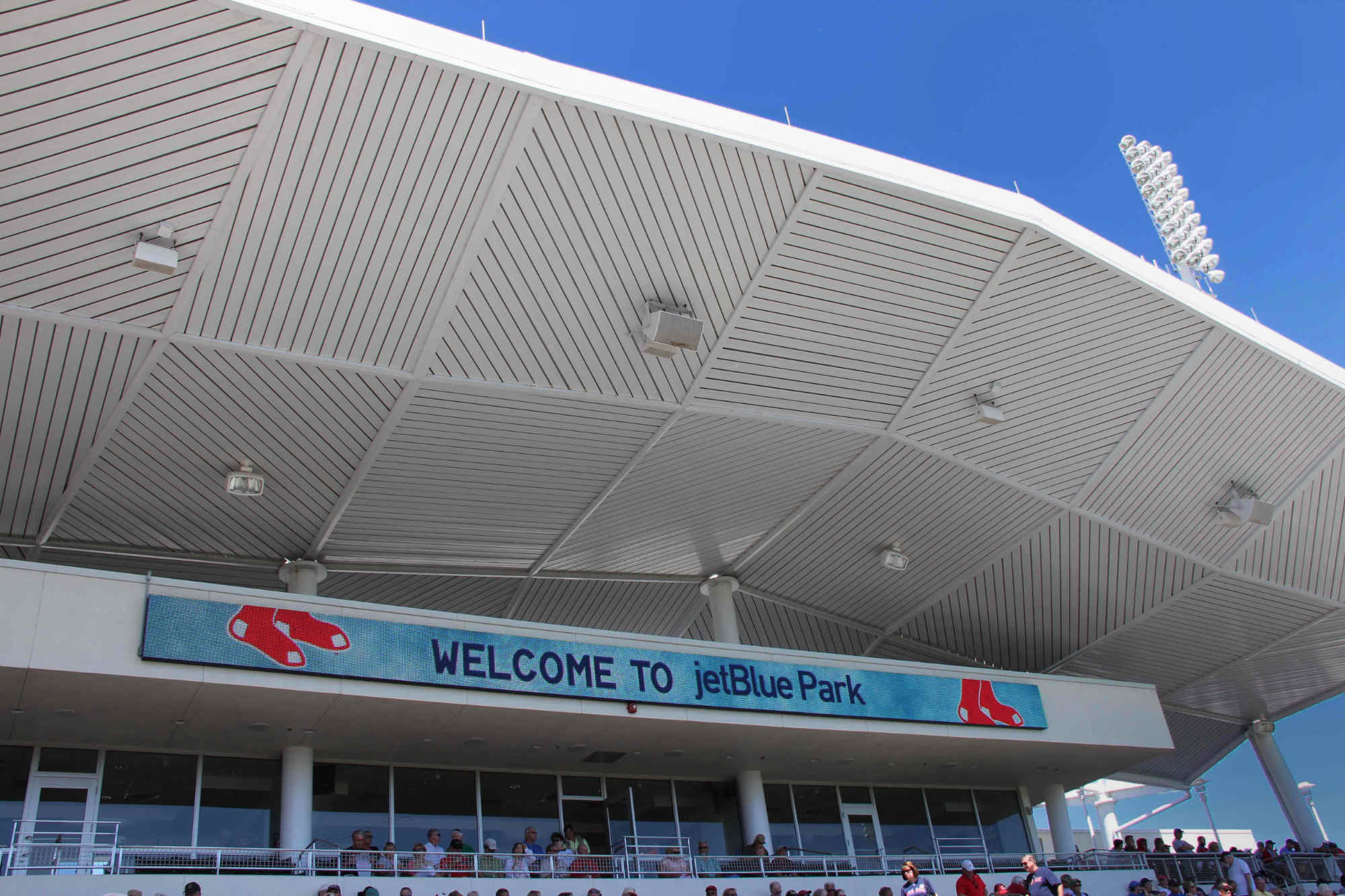 If you can swing it, a late winter trip to JetBlue Park in Fort Myers is a lot of fun and well worth your time. I took in a few games there before the 2017 season and came away impressed with the park and the incredibly friendly staff, many of them ardent Sox fans who have retired to the Sunshine State.
The Red Sox will play 30 Spring Training games in Florida this season, 16 at JetBlue. Spring games aren't your typical affair. Most feature only a handful of regulars. Given the short off-season following last year's World Series campaign, this year's Sox spring will likely feature even fewer regulars for these exhibition games. Still, it's an excellent chance to see up and coming prospects like Bobby Dalbec, Tanner Houck and Durbin Feltman in what's typically a beautiful summer-like atmosphere.
Though Spring has a carefree vibe overall, there are some interesting story lines to monitor, not the least of which is the return of 35-year-old Dustin Pedroia.
Now some news and notes of interest to Red Sox fans:
Manager Alex Cora at Fenway South says pitcher Eduardo Rodríguez is looking good. "Everybody is in the best shape of their life when they come to Spring Training, but he's actually in the best shape of his life." Cora says E-Rod was able to have a normal (as opposed to rehab) off-season "and you can see it in his body."
Cora is the subject of an MLB Network documentary that airs for the first time on Tuesday, February 12th at 9 PM Eastern. You'll find repeat performances in your local listings.
Where in the world will former Sox closer Craig Kimbrel land? With the start of spring he's still unsigned. Despite a shaky postseason, Kimbrel gave Boston 62.1 IP of 2.74 ERA pitching over the last regular season, to say nothing of 65.2 IP from Joe Kelly, who is now with the Dodgers. Baseball president Dave Dombrowski hasn't made a major move to recover that production and the bigger looming question is who on the current roster can cover the deficit?
You'll see MLB 150 patches on the right sleeves of major leaguer uniforms in 2019. The patch commemorates the 150th anniversary of the 1869 Cincinnati Red Stockings, the first all-salaried pro baseball team (that group, incidentally, went 57-0 that season). This year's Reds will go the extra mile with 15 throwback uniforms worn throughout the year. "The MLB 150 patch will be a continuous reminder on the field of the link everyone involved in the game today has with the storied history of professional baseball," said MLB commissioner Rob Manfred. Major League baseball honored the 100th anniversary of the milestone team in 1969 and later again in 1994 on the 125th anniversary.
One-time Red Sox reliever Junichi Tazawa has signed on to a minor league deal with the Cubs. Taz, now 32 years old, has seen decreasing major league action since leaving Boston in 2016. Though he signed a big $12 million contract with the Marlins in 2017, Tazawa made just 77 total appearances with them over parts of two seasons before heading to the Angels for nine games at the end of last season.
Forget the disabled list. Effective for 2019 MLB is renaming the DL as the "injured list." The move, which was communicated to clubs in December, was made at the suggestion of advocacy groups for the disabled. The rules for using the injured list in 2019 remain the same with a 10-day version for short-term injuries and a 60-day version for longer-term set backs.