After splitting the 4-game weekend series with the Orioles, the Red Sox are heading back to Florida for their first matchup of the season against the Tampa Bay Rays.
The Patriots' Day Red Sox win came in an official, though rain-shortened game of 6½ innings. It was the first rain-shortened Red Sox game since beating the Yankees 3-0 on June 2, 2013. The Sox are now 69-51 for all-time on Patriots' Day, including 11-4 in their last 15 games.
For all time the Red Sox lead the Rays 171-126 though that tally includes some very bad Tampa Bay seasons. More recently, Boston is 43-49 (.467) vs Tampa Bay over the past five seasons making the Rays one of just 5 American League clubs against which the Red Sox have a sub-.500 win percentage.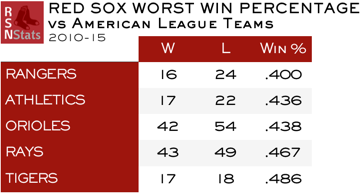 In 2013 the World Champion Sox beat the Rays 12-7 in the season series. I 2014 Tampa Bay edged the Red Sox 10 games to 9.
Tuesday's season series opener will be the first of 19 games between the clubs this season. After 3 games this week the Rays will be at Fenway May 4-6.
Pitching for the Red Sox Tuesday will be Wade Miley (0-1, 10.57 ERA this season). Miley earned a Win against the Yankees his first time out in 2015, but then melted down against the Nationals at Fenway, allowing 7 earned runs over just 2.1 innings pitched. He'll be facing the Rays' Chris Archer (2-1, 1.37 ERA), who is coming off back-to-back wins against the Marlins and Blue Jays.
Though the Rays are just 2 games back in the AL East they've opened the season with a miserable 1-5 home record. Tampa Bay has gone 4-6 against clubs of their division, including just being swept at home in a 3-game series against the Yankees.
For completeness, here are the five AL teams against which the Red Sox have the highest win percentage since 2010: