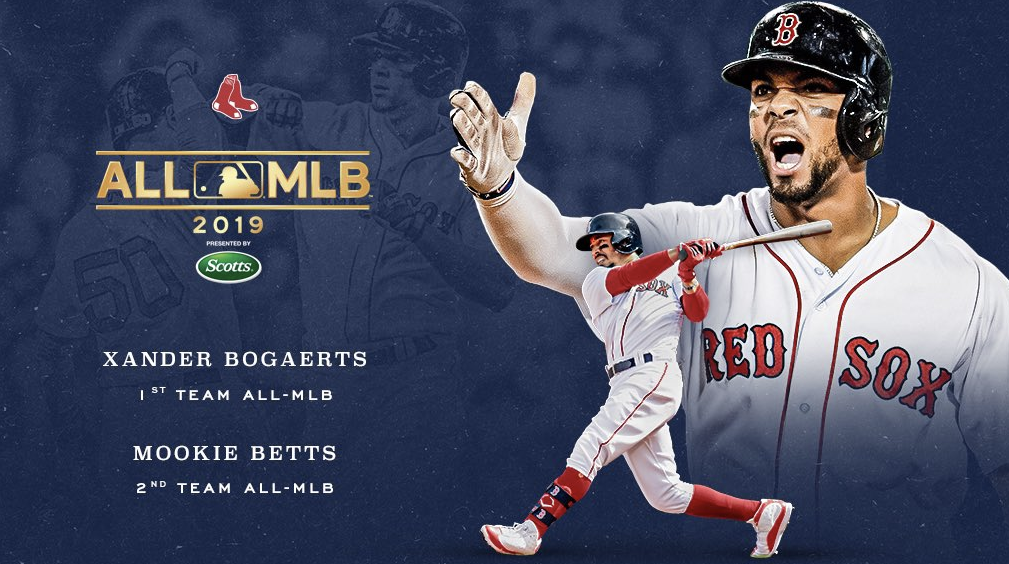 Red Sox Xander Bogaerts and Mookie Betts were named Tuesday to the first-ever All-MLB team, which consists of the top 32 Major League players, regardless of league and broken up into First and Second teams. Bogaerts was named the First-Team shortstop and Betts was named a Second-Team outfielder.
Selection to the All-MLB team was a 50/50 split vote of fans and a panel of baseball experts selected by Major League Baseball. Nominees were selected by merit, with no set number of nominees per position.
Speaking after the announcement of his selection Bogaerts thanked manager Alex Cora and the coaching staff: "We had a lot of guys on our team that were capable of being on that list," Bogaerts said. "Obviously, we're thankful for the coaching staff and manager. Alex has impacted us in a big way."
Bogaerts said the honor, which recognizes a full season's worth of work, was welcomed. "This is nice to be rewarded for the whole season, instead of just half-way through the season with the All-Star Game."
All Honorees
First-Team honorees: J.T. Realmuto, C; Pete Alonso, 1B; DJ LeMahieu, 2B; Bogaerts SS; Anthony Rendon, 3B; Nelson Cruz, DH; Mike Trout, Cody Bellinger and Christian Yelich, OF. Pitchers: Jacob deGrom, Gerrit Cole, Max Scherzer, Justin Verlander, Stephen Strasburg, Kirby Yates, and Josh Hader.
Second-Team honorees: Yasmani Grandal, C; Freddie Freeman, 1B; Jose Altuve, 2B; Alex Bregman, 3B; Marcus Semien, SS; Yordan Alvarez, DH; Ronald Acuna Jr., Juan Soto and Betts, OF. Pitchers Zack Greinke, Hyun-Jin Ryu, Jack Flaherty, Charlie Morton, Mike Soroka, Aroldis Chapmanb, and Liam Hendriks.