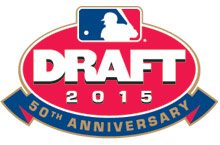 The 2015 MLB Draft is here, so it's a good time to have a look at the performance of Red Sox round one selections since 2010.
2014
Infielder Michael Chavis, Georgia's 2014 Gatorade High School Player of the Year, is currently at Single-A Greenville. In 2015 he's played 40 games batting .208 with 5 home runs, 9 RBI, and 10 doubles.
Right handed pitcher Michael Kopech made 8 starts with the Gulf Coast League Red Sox in his pro debut, recording  a .216 opponent AVG, including .118 against lefties. He's currently at Single-A Greenville with a 2-3, 2.62 ERA record over 9 starts this season. Over 34.1 innings he's racked up 41 strikeouts.
2013
Left handed pitcher Trey Ball is currently with the Single-A Salem Red Sox. This season he's 4-5, 4.42 ERA in 10 starts. Over 53.0 IP he has collected 28 strikeouts. In 2014 he started 22 games for Single-A Greenville, the 3rd most on the club.
2012
Shortstop Deven Marrero is currently with the Triple-A Pawtucket Red Sox where he's slashing .243 AVG/.310 OBP/.359 SLG over 52 games this season. In his minor league career he's played in 338 games batting .256 with 14 HRs and 126 RBI.
Left handed pitcher Brian Johnson is currently with the Triple-A Pawtucket Red Sox. Over his minor league career he's 21-13, 2.30 ERA in 58 starts. Named the Red Sox Minor League Pitcher of the Year in 2014, Johnson went 3-1 with a 3.86 ERA in 5 starts for the Salem Sox.
2011
Right handed pitcher Matt Barnes, a Connecticut native, is with the big club where he's 2-0, 1.93 ERA with 12 strikeouts in 14.0 IP. Barnes made his MLB debut as a Red Sox reliever in 2014 after spending the majority of the season at Triple-A Pawtucket, where he was 8-9, 3.95 ERA in 23 games (22 starts).
Catcher Blake Swihart was famously rushed to the big club this season when Christian Vazquez was injured in Spring Training. Swihart is batting .209 with 4 doubles, 8 RBI, a home run, and 10 runs scored over his first 26 games. A highly coveted prospect, Swihart was named the catcher on Baseball America's All-Star First Team and BA's Minor League Catcher of the Year in 2014.
2010
Second baseman Kolbrin Vitek batted .258 over 304 minor league games before deciding to retire in 2014 at age 25.
Home grown talent
Two homegrown Red Sox pitchers, Clay Buchholz, and Justin Masterson, have started a total of 18 games (32.7%) for the Red Sox in 2015. Buchholz was drafted in the 1st round (42nd pick) of the 2005 amateur draft while Masterson was picked in the 2nd round of the 2006 amateur draft.
By contrast, in 2015 the Mets, Giants, and Mariners have all relied upon homegrown pitchers to start over 70% of their games this season.