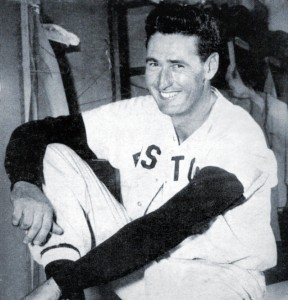 This post originally appeared on RSNStats.com in 2015. See also Ted Williams in Color Footage.
Red Sox fans of all ages know the name and many of the feats of the great Hall of Fame player, Ted Williams.
Theodore Samuel Williams was born in San Diego on August 30, 1918, was signed by the Red Sox as an amateur free agent in 1936, and made his major league debut in 1939, when he set a rookie season record for most RBI (145).
A larger than life personality, Williams would play all 19 seasons of his career with Boston, missing 1943-45 for Military Service. In all but two seasons Williams was selected as an American League All-Star. He was the American League MVP in 1946 and again in 1949 and won the AL Triple Crown in 1942 and 1947.
In all, Williams led the league in batting six times, in home runs four times, in total bases five times, in walks eight times, and in slugging percentage nine times.
Over his long career Williams slashed .344 AVG/.482 OBP/.634 SLG, including a remarkable .406 AVG over 143 games in 1941. Williams is one of just four major league players ever to have stolen bases in 4 decades (also Tim Raines, Sr., Rickey Henderson, and Omar Vizquel).
Records Still Stand
Teddy Ballgame remains No. 1 in Red Sox history for home runs (521), walks (2,021), batting average (.344), on-base percentage (.482), and slugging (.634). His OPS, a measure of his ability to get on base and to hit for power, is an all-time club best of 1.116. In fact, among all players with 650+ career games, Williams' career OPS is the second for all-time behind only Babe Ruth's 1.164 mark.
Williams had eight seasons with 30+ home runs and nine seasons with 100+ RBI. Only David Ortiz had more such seasons in Sox history (10 seasons for 30+ HR and 100+ RBI).
At home at Fenway, Williams is the still the all-time leader in home runs (248), walks (1,031), and on-base percentage (.496). Among players with at least 100 games at Fenway, Williams is tops for all-time in slugging percentage (.652). Only fellow Hall of Famer Wade Boggs (.369) had a better lifetime AVG at Fenway than Williams (.361). Similarly, only Carl Yastrzemski (2,991) has more total bases at home than Williams (2,536).
In 1969 and again in 1982 the fans voted Ted Williams the Greatest Red Sox Player of all time.
Ted Williams played his last major league game September 28, 1960. Nine years later, at age 50, he began agreed to a five-year deal as the manager of the Washington Senators, earning Manager of the Year honors after his first season when he led the club to an 86-76 (.531) record. The remaining years on his contract weren't nearly as positive, however. Four years into the deal, as the Senators moved on to become the new Texas Rangers, Williams negotiated his exit.
"The Splendid Splinter" was inducted to the National Baseball Hall of Fame in 1966, capturing 282 of 302 ballots. Ted's No. 9 was formerly retired at Fenway Park on May 29, 1984.
Williams died on July 5, 2002 in Inverness, Florida at age 83.