The Red Sox came away with a 10-7 win over the Blue Jays on Wednesday. In doing so, they avoided a sweep and lowered their magic number for a consecutive division crown to two.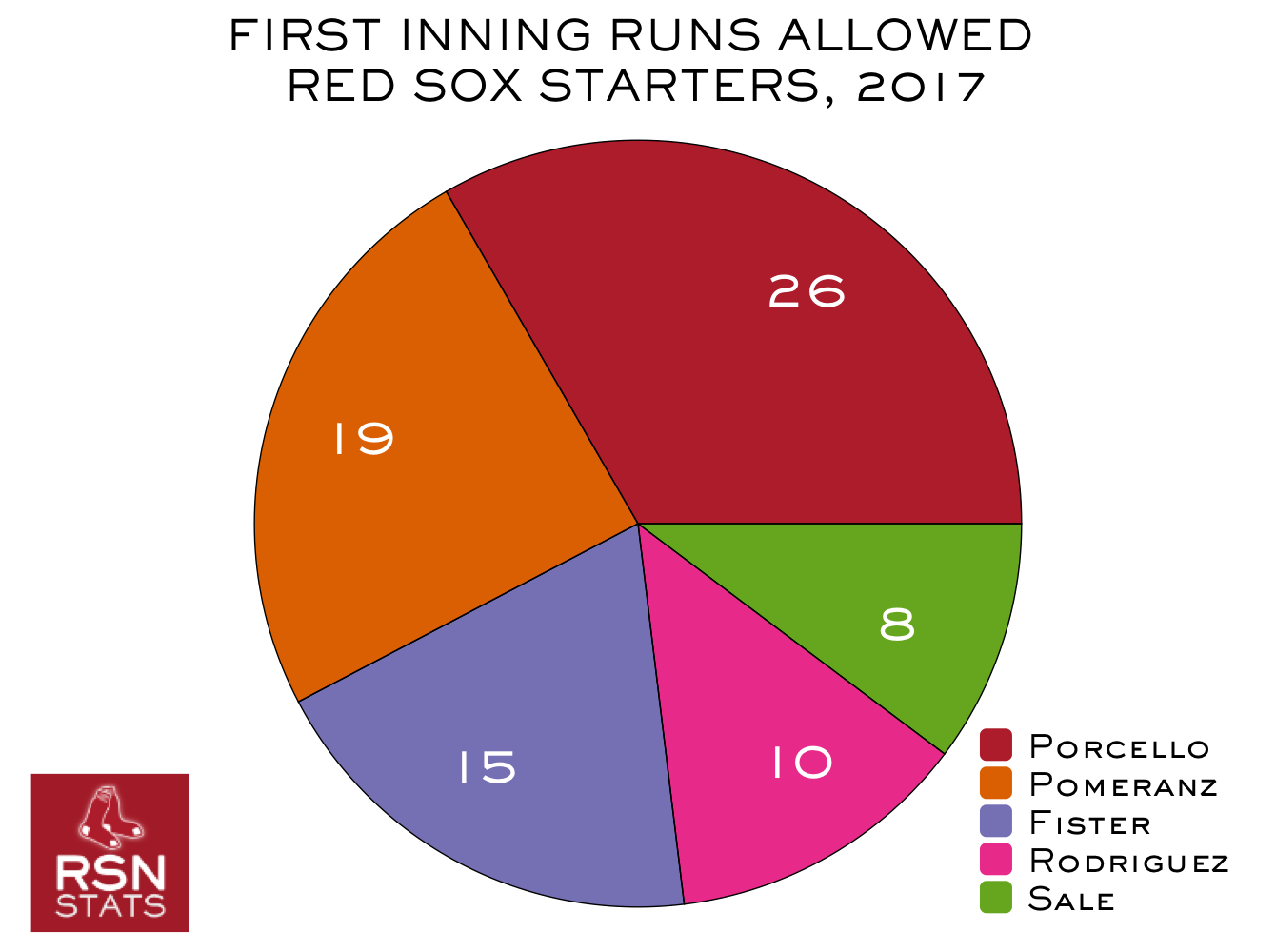 Starting pitcher Rick Porcello once again put Boston into an immediate first-inning hole, allowing three quick runs before the Sox had even come to the plate. "Thank God our offense put up those runs," Porcello said afterwards.
Porcello has now allowed a club-high 26 runs this season in the first frame. His 6.55 first-inning ERA is the club's highest single-season mark by a pitcher with at least 30 starts since John Burkett's 10.12 ERA in 2003.
Porcello is averaging 0.78 runs per first innings pitched this season. Only Doug Fister (1.07) has a higher such ratio on the club. Porcello and Drew Pomeranz are among the 25 major league pitchers averaging the most first inning runs per innings pitched this season (minimum 30 starts).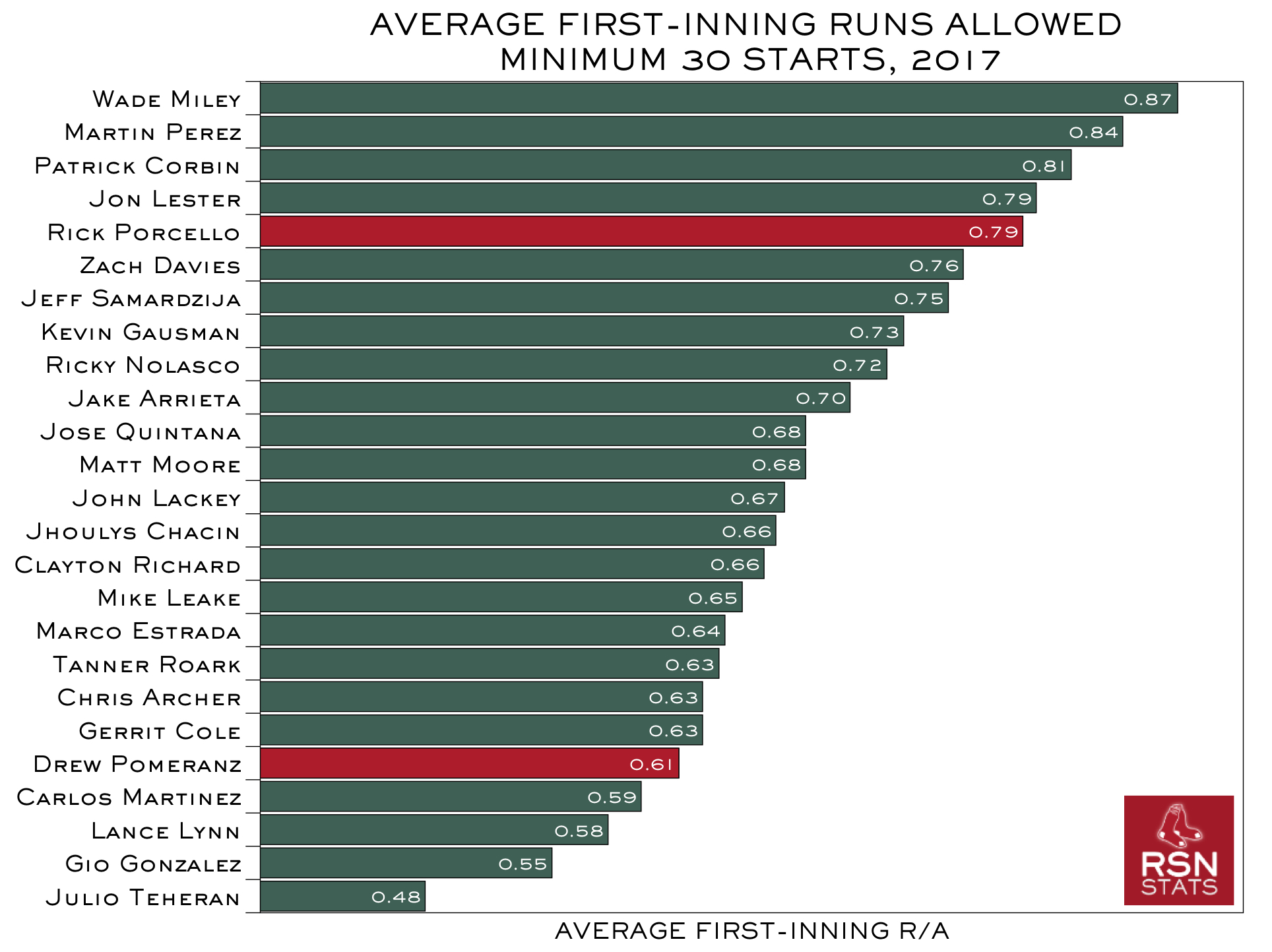 For all its strengths, Red Sox pitching this season has now allowed exactly 100 first-inning runs, the 3rd-most in the American League. That ties this year's crew with the 2003 club for the second-most such runs over the past 15 seasons.
2017 is just the 10th time in the last 50 Red Sox seasons that Boston has allowed 100 or more first-inning runs. The record is the forgettable 2012 season, when the Red Sox gave up 126 runs to first inning batters, the most runs allowed in any inning in that span of time.
Porcello's Tough Season
Porcello, last year's American League Cy Young Award winner, has struggled with his control throughout the season. He's allowed the most runs in the American League in 2017 (125) and the most two-out runs (39) on the club, including two on Wednesday night.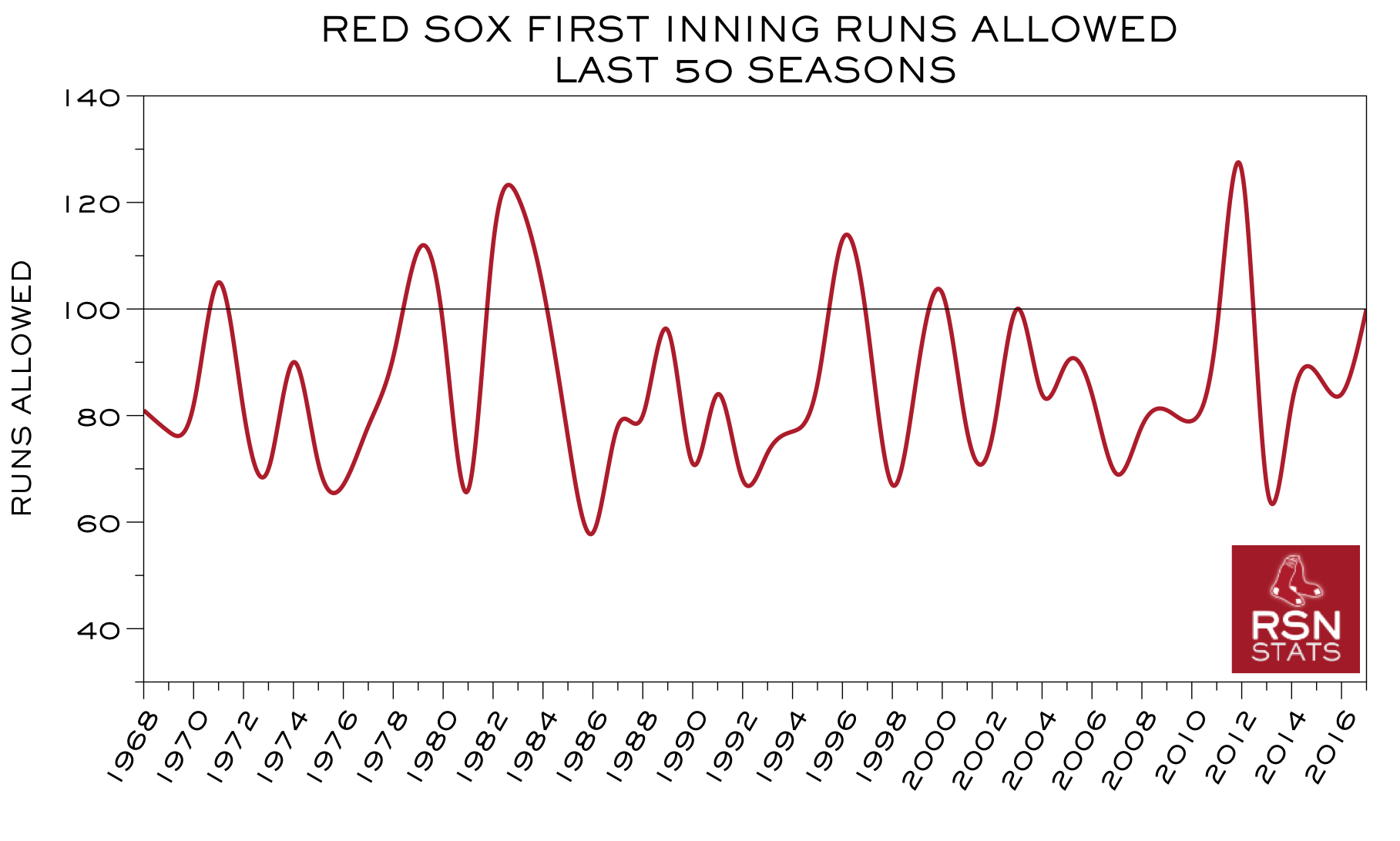 With home runs by Jose Bautista and Darwin Barney, Porcello tied the Red Sox club record for most games in a single season with multiple home runs allowed (11). The others to do this were Tim Wakefield in 1996 and 2005 and Earl Wilson in 1964.
Porcello finishes the 2017 regular season 11-17 with a 4.65 ERA in 33 starts, setting new career highs for hits (236), runs (125), earned runs (105), and home runs (38) allowed. His 181 strikeouts were good for a career-best 8.0 SO per 9.0 innings pitched ratio.
Porcello gave the Red Sox 19 quality starts this season, in which he worked at least 6.0 IP and allowed three or fewer earned runs. He suffered a club-high nine losses in those starts. The righty worked two complete games, but had no shutouts.
For 2017 Porcello earned $20.1 million. His contract guarantees him $21.1 million for both the 2018 and 2019 seasons.