Updated—Red Sox bench coach Ron Roenicke was officially named the new interim manager of the team on Monday. The appointment was anticipated after a report surfaced in the Boston Globe on February 7. Subsequent reporting in the Globe says the Sox will go with the "interim" moniker at least until the completion of Major League Baseball's sign-stealing investigation of 2018 Red Sox.
Red Sox chief baseball officer Chaim Bloom, interviewed on MLB Network, said he'll consider lifting interim from Roenicke's title. "We certainly have no reason to think that anything adverse for Ron will come out of [the investigation]," Bloom said. "But we recognize that we are under an MLB investigation…When the investigation is complete we'll address the question of permanence then."
"Always Try To Do The Things The Right Way"
At Red Sox Winter Weekend in January, Roenicke denied any involvement in the Sox' alleged sign stealing. "It would be concerning if something happened—that I knew I wasn't part of—that I was brought into as part of that," Roenicke said. "I know what I do. I always try to do things the right way."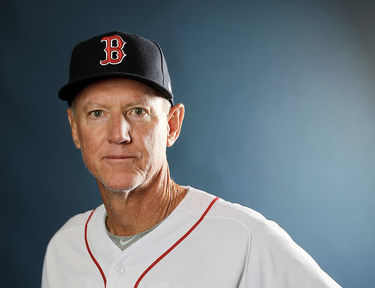 Roenicke will be the 48th manager in Red Sox history, following the departure of Alex Cora, who was pilloried in MLB's report of illegal sign stealing by the 2017 Houston Astros. In a statement on January 14, Cora said he and club had decided that "parting ways was the best thing for the organization."
Experienced hand
Roenicke has been the Red Sox bench coach since Cora's arrival in 2018. His experience includes eight MLB seasons as an outfielder for the Dodgers, Phillies, Giants, Padres, Reds and Mariners.
More significant to his work with the Sox, Roenicke has nearly 30 years of coaching experience, including five years as the manager of the Milwaukee Brewers (2011-15), during which time he went 342-331 (.508). In 2011 Roenicke was runner-up National League Manager of the Year after leading the Brew Crew to a franchise-record 96 wins and their first NL Central division title.
Roenicke's time managing the Brewers was bookeded by big league coaching gigs, first with the Dodgers and Angels and afterwards with the Dodgers, again. "Coaching is fun. It's a fun job," Roenicke told the Globe, "Managing is challenging."
Roenicke, 63, grew up in Covina, California and lives in San Celemente, CA during the off-season. He was drafted five times before he signed with the Dodgers as their 17th-overall pick in 1977. He and his wife, Karen, have a son, Lance, who played and coached in the Brewers' system from 2012-14. Roenicke's brother, Gary, was an outfielder for the Expos, Yankees and Braves, and is a member of Orioles' Hall of Fame, having spent eight years with that club.