If this current road trip were dinner in a nice restaurant, this first stop in Chicago would have been only the appetizer. There's still the salad and a main course to go, but at least the meal is off to a good start.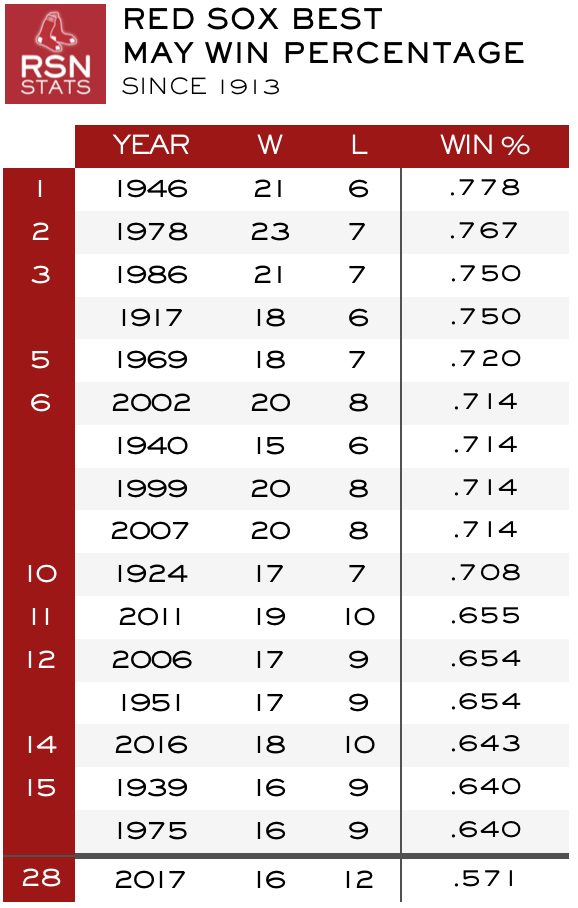 The Red Sox beat the White Sox on Wednesday 4-1 to win the series 2-game-to-1.
The Red Sox finish the month of May 16-12 (.571), well short of their 18-10 (.643) power numbers last season, but also ahead of any other Sox season since 2011.
Sox pitchers combined for 275 strikeouts, the most in May in club history since 1913. Chris Sale accounted for 58 of those strikeouts, the most on the club and third most in the majors for the month. Boston pitchers' 57 walks allowed was the third lowest May mark since 1913.
The majors' best May was the torrid pace of the Astros, who escaped the month with just seven losses (22-7). Houston's .759 win percentage for May is the best mark in May since the Padres were 22-6 (.786) in 2005. Boston's .571 win percentage was the third best May mark in the American League after Houston and the resurgent Blue Jays (.643).
The Red Sox' best May was in 1946 when they went 21-6 (.778).
Promising Pomeranz
Wednesday's win included a few positives worth noting. Foremost was the seven full innings of work by Drew Pomeranz, who improved to 5-3 on the year with a 4.24 ERA after allowing seven hits but just one run. Pomeranz walked none and struck out eight. His 108 pitches were the third most in his career, a mark he last reached on May 18, 2016 while playing for the Padres.
Also a plus was the solid return from the Disabled List of the Panda. Pablo Sandoval went 3-for-4 with an RBI to give the Sox the lead in the sixth inning, when the Sox erupted for four runs, the entirety of their scoring in the game. For Sandoval it was his first game in the majors since April 23.
Red Sox are now in Baltimore for four games against the Orioles before the main course, three against the tough New York Yankees.