Saturday's grand slam by Red Sox catcher A.J. Pierzynski (the 8th of his career and the Red Sox' first of 2014) got me thinking about these grandest and rarest of home runs.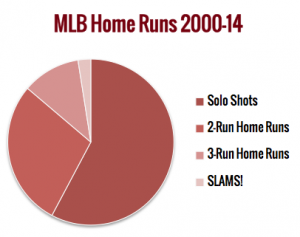 Since 2000 through April 25, 2014 there have been 71,540 home runs in all. 41,325 (58%) have been solo shots. 20,350 (28%) have been for two runs. 8,087 (11%) have brought in 3 RBI. But only 1,778, a mere 2.4%, have been grand.
The most slams since the start of the 2000 season by any team is 97 by the Yankees, followed by 84 by the White Sox, and 81 by the Red Sox. The fewest have been by the Royals (42) followed by the Pirates (44) and the Diamondbacks (45).
The Tampa Bay Rays have allowed the most grand slams since 2000 season began (79) followed by the Cubs (77) and Orioles (76). The Giants have allowed the least (30), followed by the Dodgers (31) and the Phillies (45). The Red Sox have allowed 65 grand slams since 2000, 10th-most in baseball.
Alex Rodriguez has hit the most grand slams since 2000 (18—and 24 in his entire career) followed by Carlos Lee (15) and Richie Sexson (130). Both David Ortiz and Manny Ramirez have had 11, tied with Jason Giambi for 9th most. Trot Nixon shows up tied at No. 23 on the list with 8 and Mike Lowell is tied at No. 31 with 7.
On the other side, old friend Ryan Dempster has allowed the most in that time (11) followed by Kyle Lohse (10) and Brad Penny, Cliff Lee, and Kevin Millwood (8 each).
The home of the White Sox and not the Rockies, has been the site for the most grand slams since 2000. US Cellular Field has seen 93. Fenway Park is next (77) with Rangers Ballpark and Coors Field in third place (74 each).
Special slams
Fans will remember a special game on July 29, 2003 when Red Sox Bill Mueller hit two grand slams in the same game, one from each side of the plate. The rare feat of two grand slams in one game has happened just 13 times in history, most recently on July 27, 2009 by Josh Willingham of the Nationals. Four Red Sox have had two grand slams in a single game, the most of any MLB club.
Another special game came on June 12, 2010 when Red Sox Daniel Nava became one of just four MLB players ever to hit a grand slam in his first at-bat. The others are Bill Duggleby (1898), Jeremy Hermida (2005), and Kevin Kouzmanoff (2006).
Though I've focused on games from 2000 to present day, I'd be remiss not to recognize Lou Gehrig, whose 23 grand slams was the all-time record until A-Rod achieved Slam No. 24.
Two current day managers are noteworthy for slams. White Sox skipper Robin Ventura is one of the 13 to have two grand slams in a single game. Dodgers manager Don Mattingly is unique for his grand slam proclivity, hitting 6 for the Yankees in the 1987 season. Mattingly's 6th and record-breaking slam came off of Red Sox pitcher Bruce Hurst. Despite that power burst, Mattingly went on to play for 8 more seasons with no additional grand slams. In 2006 the Indians' Travis Hafner would tie Mattingly's mark for most slams in a single season.
More exciting than the slam
As exciting as the grand slam is, how about the walk-off grand slam like the one Jose Abreu hit on Friday to give the White Sox a thrilling victory over the Rays? Well, since the start of the 2000 season there's been just 67 of those. What's more, with Friday's walk-off grand slam the Rays have now tied the Mets with the dubious distinction of allowing the most of them (6). The Red Sox have allowed 3.
Walk-off grand slams may be the rarest of home runs but the Nationals have managed to stroke 5 of them since 2000, more than any team in baseball. The Braves, Dodgers, Indians, Marlins, and White Sox have all had 4. The Red Sox have had one.
Individually, Alex Rodriguez has the most walk-off grand slams (3). Pitchers Francisco Cordero, Joe Borowski, and Francisco Rodriguez have allowed the most (2).
Forget the rest, tell me about the Sox
Diehard Red Sox fans know the club's all-time grand slam leader is Ted Williams, who else could it be? Williams had 17 over his career. David Ortiz is 2nd with 10 followed by Rico Petrocelli (9). Bobby Doerr, Trot Nixon, and Jim Rice each had 8.
For a single season the Red Sox leader is Babe Ruth with 4 in 1919. Last season Mike Napoli had 3, joining nine other Red Sox greats like Manny Ramirez, Mo Vaughn, Carl Yastrzemski, Ted Williams, and Jimmy Foxx (who had 3 grand slams in both 1938 and 1940 seasons).
The Red Sox have four pitchers in club history with grand slams: Wes Ferrell (1936), Lefty Grove (1935), Ellis Kinder (1950), and Babe Ruth (1919).