As we sit back and wistfully enjoy the American and National League Division Series this week, a look back now at some happier times for Red Sox fans.
The Red Sox have had their share of postseason fireworks, including 12 dramatic walk-off wins, four of which came in Division Series play. Here's a look.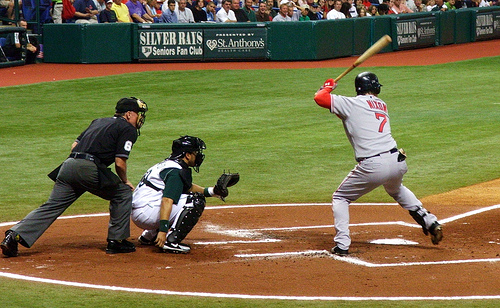 The Sox' first ever ALDS walk-off came in Game 3 of the 2003 series when Trot Nixon, pinch-hitting for Gabe Kapler, homered for two runs off Athletics Rich Harden with one out in the bottom of the 11th inning. Boston would go on to win that series 3-game-to-2 then face the Yankees in the ALCS. Grady Little, Pedro Martinez, Aaron Boone. Nevermind.
A year later, also in Game 3 of the ALDS, David Ortiz provided the power with a 2-run home run with 2 outs in the bottom of the 10th inning off Jarrod Washburn, who had been called on specifically to face Big Papi. It was all that was needed to complete the Sox' sweep of the Angels. The 2004 ALDS was the appetizer for what would be a monumental Red Sox postseason.
Three years later and back in the ALDS, the Angels likely had Ortiz in mind when they intentionally walked him in a tied Game 2 with 2 outs in the bottom of the 9th. But it would be the same story on a different day, this time at the hands of Manny Ramirez who took Francisco Rodriguez deep into the night for three runs on the way to what would be a Boston sweep.
The most recent ALDS walk-off for Boston wasn't a home run, but a single that Jed Lowrie used to drive in Jason Bay in Game 4 of the 2008 ALDS. It was the 23rd time in postseason history that a series was decided by a walk-off hit (the 2nd time by a Red Sox player) and the fourth time that a rookie had done so.
Since Lowrie's hit, three other major leaguers have closed a series with a walk-off hit: the Brewers Nyjer Morgan (2011 NLDS Game 5), the Royals Salvador Perez (2014 AL Wild Card), and the Giants Travis Ishikawa (2014 NLCS Game 5).
The Red Sox have four walk-off wins in the American League Championship Series too. More on that when that series begins.