A familiar AL East face will soon be in Red Sox. Free agent Kevin Pillar, 31, the right handed outfielder who spent most of his career with the Blue Jays, inked a one-year $4 million deal with the Sox according to a report from USA Today's Bob Nightengale and the Boston Globe's Alex Speier.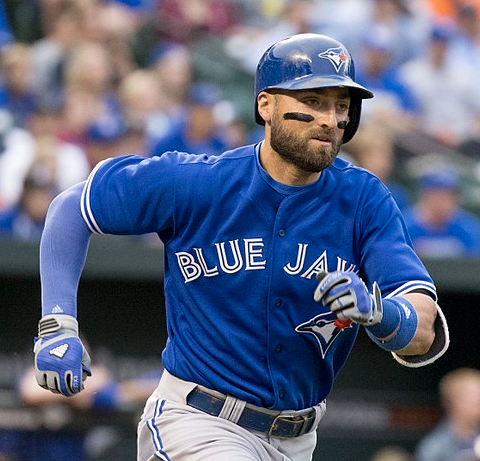 Pillar appeared in 695 games with Toronto from 2013 to the start of 2019 before being traded last April 2nd to the Giants for pitcher Derek Law that included Alen Hanson and Juan De Paula. Save for a day off for the trade, Pillar appeared in 161 games of the 2019 campaign. His 37 doubles last season tied for 8th-most in the National League, and he led the Giants (or tied for the lead) in hits (157), infield hits (20), doubles, runs (82), home runs (21), RBI (87), and stolen bases (14).
Over his career, Pillar has slashed .261 AVG/.296 OBP/.405 SLG in 851 career games, which includes a career .307/.339/.380 slash line in 47 games at Fenway Park. His AVG and OBP in Boston are his best career marks at any ballpark where he's played in at least 15 games. His 5.764 at-bats per strikeout is a Top 25 best rate among active American Leaguers with 2500 or more plate appearances (a list, incidentally, that's topped by Dustin Pedroia at 9.2217).
As important, Pillar is a hard-charging defender and smart baserunner, having swiped at least 14 bases in each of the last five seasons. In one memorable 2018 game against the Yankees he became the first player in Toronto history to steal second base, third base and home in a single trip around the bases.
The California native an All-American center fielder at California State University Dominguez Hills, where he set the NCAA Division II record with a 54-game hitting streak for the Toros in 2010 and set the school's all-time record with a career batting average of .367.
The Blue Jays drafted Pillar in the 32nd round of the 2011 First-Year Player Draft. He made his MLB debut in Toronto on August 14, 2013 facing the Red Sox. In 2018 he went 4-for-12 (.333) in the Japan All-Star Series.
Welcome Kevin Pillar to Red Sox Nation. You'll find him on Twitter at @KPILLAR4.