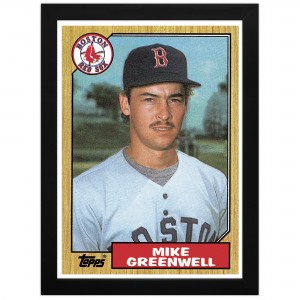 Mike Greenwell ended an 86 year drought—not for a World Championship, but for one of the rarest of rare feats: an inside-the-park grand slam home run against the New York Yankees.
24 years ago on a sunny September 1, 1990, Greenwell did something at Fenway Park that hadn't been done in 29 years. Facing the Yankees that Saturday afternoon the Red Sox outfielder went 4-for-5 including a memorable inside-the-park grand slam home run off New York reliever Greg Cadaret. It was the first such Red Sox home run since Gary Geiger's on August 8, 1961.
Two-time All-Star Mike Greenwell played 12 seasons with the Red Sox from 1985-96, retiring with a 303/.368/.463 slash line. In an outstanding 1988 All-Star and Gold Glove season he went .325/.416/.531, the 2nd-best on-base percentage, 3rd-best batting average, and 5th-best slugging percentage in the American League. He achieved single-season career bests that year for home runs (22) and RBI (119). His WAR was 7.5, 5th-best in the AL. Greenwell was runner-up that year for AL MVP, losing out to Jose Canseco.
Greenwell joins a small group of Red Sox
But in that September 1, 1990 game "The Gator" distinguished himself in a way few others have. That it came against the Yankees made it especially sweet. The 2nd time, in fact, the Red Sox had managed the rarest of home runs vs their dreaded rivals, but the first time in 86 years. The Red Sox would win that game 15-1 boosted by two home runs for Ellis Burks and another by Tom Brunansky.
Greenwell joined a small group of Red Sox with inside-the-park grand slams at home. The others are:
Gary Geiger vs the Twins (August 8, 1961)
Don Lenhardt vs the Philadelphia Athetics (April 19, 1952, Game 1)
Hobe Ferris vs the White Sox (June 5,1903)
Jimmy Collins vs the Cardinals (July 25, 1902)
In club history four other Red Sox batters have had inside-the-park grand slams on the road, including two by Duffy Lewis: October 3, 1912 vs the Philadelphia Athletics and May 13, 1911 vs the Tigers. The others are: