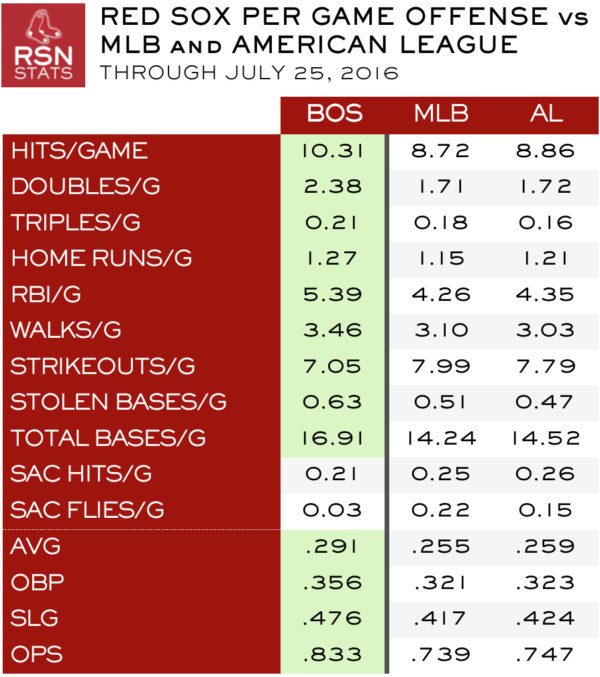 The Red Sox started the day with exactly 1,000 hits in the books, the first major league team to reach that milestone this season. In 2015, the Sox didn't get to 1,000 hits until August 12th.
With each major milestone we've been pausing to evaluate how the 2016 Red Sox compare to the rest of baseball. No surprise, Boston's offense is primarily responsible for keeping this year's team in contention.
As of this writing, the Red Sox own the best offense in the major leagues, tops in batting average (.291), on-base percentage (.356), and slugging (.476). At .833, the Sox are the only club in baseball with an OPS above .800 this season.
Boston has the most hits in the majors as well as the most doubles (231), runs scored (549), runs per game (5.66), RBI (523), total bases (746), and owns baseball's top OPS+ (117). RSNStats recently reported on David Ortiz' mammoth OPS+ as part of a recent review of his overall performance.
As the table shown here illustrates, in nearly all offensive categories, the 2016 Red Sox are ahead—and in some cases, well ahead—of both MLB and American League average production.
Different season, same song
Through 97 games this season the Red Sox have connected for 10 or more hits in 58 of them. That's the most such games in that period of time for any major league team since the 2003 Red Sox had 59 such games.
Boston's 10+ hit games this season, nearly 60% of its total games played, represent a lot of missed opportunity. With a .724 win percentage in 10+ hit games this year, the Sox are in the middle of the pack, ranked 15th of the 30 major league teams. Unlike the Red Sox, who have lost 16 of their 10+ hit games, the Cubs have lost just five for an MLB-best .872 win percentage in such games.
Things weren't much better in the lost Red Sox seasons of 2014 and 2015 when Boston amassed a win percentage of just .673 and .712, respectively, in games of 10+ hits. The difference then, however, was how few of those games there were. For the full season of 2014 the Sox had just 52 such games. They had 66 in all of 2015. This year's Red Sox are on pace for 97 games with double-digit hits. The last major league club with that many 10+ hits games in a single season was the 1950 Red Sox, who had 98.