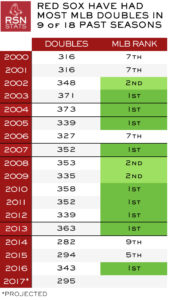 For years, the Red Sox were known to be a doubles machine, routinely pounding out two-baggers as a major part of their offensive production. But as we head into the final 50 games of the 2017 campaign, the Sox have just 204 doubles, good enough for eighth most in the majors—and 19 of those have come recently, during an offensive spurt over the past six games.
At the current rate, the Red Sox will collect 295 doubles this season, their third fewest in any season since 2000.
Especially since the year 2000, the Red Sox have enjoyed prodigious doubles production. In fact, Boston has recorded the most doubles of any team in fully half of the seasons played since the year 2000. 
That's not too terribly surprising. Fenway Park is, after all, known to a double park. More two-baggers (2,702) have been hit there since 2000 than in any other park. What is more, Fenway has hosted the most doubles in the majors in every decade since the 1960s: 1990s (3,223 doubles), 1980s (3,140), 1970s (2,925), and 1960s (2,746).
In 2017, just 205 doubles have been stroked at Fenway, 11th-most of the 30 MLB parks. 105 of those have been by the Sox, putting them on pace for 152 doubles, their fewest at home since swatting 149 doubles in the 1992 season.
A Season Without A Slam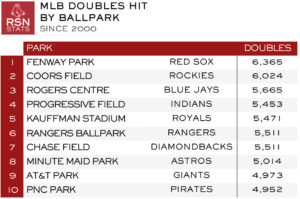 A tail off in doubles is especially concerning to Red Sox Nation in light of the similar dearth in home runs. Again, even with a recent spurt of long balls (11 over the past five games), Boston is dead last in the American League with just 116 to date.
Last year the Sox had the most grand slams in the AL, but this year the team has none despite fully 102 opportunities with the bases loaded.
No Red Sox club since 1953 has gone a full season without at least one grand slam home run.