As we countdown to a new baseball season (that can't come soon enough), a couple notes of interest to fans across Red Sox Nation.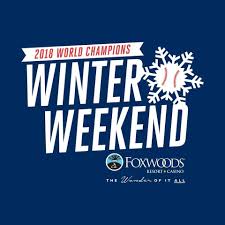 Enjoyed seeing the team, coaches and, of course, the new Championship trophy at Sox Winter Weekend this month at Foxwoods Casino. There was triumphant jubilance in the air, as you'd expect after a thrilling World Series victory. As he did last season in his first appearance at the annual party, Manager Alex Cora exuded a whole lot of confidence about the campaign ahead. "From Day One in Spring Training they were locked in," Cora recalled of his first Florida at the helm. But now, "they're ready for next year!" As for 2019, "If you guys thought it was fun last year, be ready!" Cora added.
Nice spot during the fan fest when a mom asked Sox president/CEO Sam Kennedy who on the team might be a great role model for her kids. Kennedy didn't hesitate a beat in picking Jackie Bradley, Jr.: "He is as fine a human being as you'll ever encounter."
The Winter Weekend event is a lot of fun with plenty of access to the team's stars, but it's also a lot of standing around and waiting in confusingly winding lines. This year's event was an easy sell out with over 7,000 attendees. That's a lot of people that the Foxwoods' convention space and staff seem to struggle to accommodate. What was once a very organized event appears to have outgrown its venue.
The Red Sox have pretty much kept the 2018 band together for the new season. Boston inked deals with Nathan Eovaldi (four years) and World Series MVP Steve Pearce (one year). Leaving the roster are Joe Kelly (to the Dodgers), Drew Pomeranz (Giants), and Ian Kinsler (Padres). The club welcomed back Bryce Brentz in a minor league deal. Also new for 2019 are minor league signings of Colten Brewer, Gorkys Hernández, Ryan Weber, and Juan Centeno.
Future Hall of Famer Craig Kimbrel remains on the free agent market with the Sox giving no indication they're ready to re-sign him to the massive contract he wants. Some speculate whether there may be a pillow contract with the Sox or some other club in Kimbrel's future, perhaps a year-long deal so that he can re-try the market after 2019.
With the loss of Kelly and Kimbrel the Sox bullpen is weakened for 2019. Matt Barnes and Ryan Brasier proved mostly reliable last season, though it's unclear what fans can expect from Tyler Thornburg, Heath Hembree and Steven Wright.
And speaking of the Hall of Fame and the history-making unanimous selection of Mariano Rivera, it's worth noting that one-time Red Sox Curt Schilling got closer than ever this year to a selection. Schilling received 60.9% of the 75% of the baseball writers' votes needed, by far his best showing since first appearing on the ballot in 2013 and up big from 51.2% in 2018. Schilling has three more years of eligibility for this ballot, though there are additional ways into the hallowed halls. Roger Clemens, who likewise has three years eligibility remaining, saw his voting tally inch up in this round of voting to 59.5%, his most ever, too.
Catching up: Former manager John Farrell has been re-hired as a pitching consultant to the Reds; one-time Sox reliever Craig Breslow is now the Director of Strategic Initiatives with the Cubs; former Sox first base coach Arnie Beyeler will man that post for the Orioles this season.
Former Red Sox third baseman Will Middlebrooks, 30, has retired from playing. Middlebrooks was a 5th round draft pick for Boston in 2007 and played three seasons with the club followed by appearances with the Padres, Brewers and Rangers. An unfortunate injury last spring training kept him from a restart with the Phillies in 2018. It will be fun to see what's next for Middlebrooks, who says he plans on staying in the game in some capacity.
A couple notes from around the division: The Yankees have made a variety of moves this off-season, including signing Danny Farquhar to a minor league deal. Farquhar is making his way back after a ruptured brain aneurysm that occurred in the dugout last season while playing for the White Sox…The Rays appear to have found a solution to the cavernous, often empty feeling at their ballpark in Florida: close part of the stadium to force a little togetherness.
A reminder, fans, that you can find news and notes about Red Sox division rivals throughout the off-season on Twitter at RSNStatsPLUS+.