What a difference a week makes. Last Sunday at this time we were miserable after enduring our 10th straight loss, the Red Sox' longest slide since June 8–19, 1994 (nearly 20 years ago!) when the club lost 11 straight. Worse yet, those last 3 losses came at the hands of the Rays, a substandard team themselves so far in 2014, and, in my view, a strong contender for being the Red Sox' chief division rival.
But today, with a 7th straight win, the Red Sox look like a different club entirely.
In fact, as deep as the 10-game losing streak brought us to despair, consider this: if the Red Sox win Monday in Cleveland, they will achieve what no other team has done in the history of major league baseball: they'll have followed a double-digit losing streak with the longest-ever streak of wins. Sunday's win tied them with the 1989 Tigers and 1942 Pirates, both of whom followed 10+ losses with 7 wins in a row.
Satisfyingly, Sunday's 4-0 shut out capped a sweep of the Rays, improving the Red Sox to 166-119 for all time vs Tampa Bay, including a 93-50 record at Fenway Park. It was the 22nd time the Sox have shut out the Rays and the first since September 10, 2013.
But as the Red Sox, now 27-29, struggle to get back to .500, the story of the day really centered on the newcomers: Holt, Cecchini, and Hassan. Their performances underscore the depth of the Red Sox system and gives hope to the idea that this club can, in fact, contend in 2014.
In the absence of Napoli, Victorino, Carp, Middlebrooks, Lavarnway, and Pedroia, the Red Sox still managed to field a quality team.
Holt ignites the offense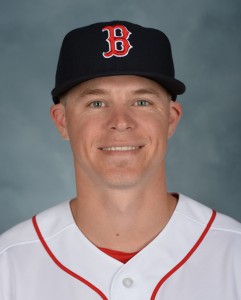 In his short time with the club Brock Holt has been solid defensively and at the plate. Entering the game at .305 today he proceeded to belt out 4 doubles, the last, perhaps, thanks to a gracious scorer. Still, Holt improved to .337 on the season with one game and became just the 6th Boston player since 1914 with 4 doubles in a game (the others being Victor Martinez (2010), Rick Miller (1981), Orlando Cepeda (1973), Al Zarilla (1950), Billy Werber (1935).
Victor Martinez, in fact, playing for the Red Sox in 2010, was the last MLB player of any club to have four doubles in a game—and it came four years to the day before Holt's achievement.
Holt joins Denny Sothern of the 1930 Phillies as the only two players since 1914 with 4 doubles and a steal in a single game.
Two special debuts
Two Red Sox made their MLB debut today. One was planned, one wasn't, but both were special.
26-year-old Quincy native Alex Hassan (pronounced "HASS-in") was in right field Sunday, the 1st player born in Massachusetts to start in the outfield for the Sox since Billy Conigliaro in 1971.
When he came to the plate with the bases loaded in the first inning there were flashbacks to Daniel Nava's debut, but it wasn't to be. There was no grand slam, just an inning-ending strikeout on three pitches; he never took the bat off his shoulder. But that first hit would come in the fourth inning, as would his first run scored when Brock Holt hit one of those doubles that gave Boston a 3-0 lead. Hassan's hit was the 1st by a Massachusetts native with the Sox since Mark Bellhorn's home run vs the Yankees Randy Johnson on July 16, 2005.
But while Hassan knew he was starting today, another first-timer, 23-year-old Garin Cecchini, an All-Star in each of his first 3 minor league seasons, didn't know his time would come. Called up for Sunday's game, Cecchini said he arrived at the park around 7:30 in the morning, just to soak it all in. But when Dustin Pedroia was surprisingly ejected from the game in the top of the 4th inning for arguing the strike zone, Cecchini found himself called into action. He responded by becoming the 1st Boston player younger than 24-years-old to double and have an RBI in an MLB debut since Ron Mahay on May 21, 1995.
After the game Cecchini told the press it was just an "unbelievable experience, a dream come true. Kinda speechless right now." He won't be going on with the club to Cleveland, though. Cecchini had dinner with his parents after being told he'll be heading back to Pawtucket for now, according to the Boston Herald's Scott Lauber.
Cecchini & Hassan became the first pair of Red Sox to make their MLB debut with a hit on same day since Steve Dillard & Andy Merchant on September 28, 1975.
Rubby pitches a gem
With all the talk of newcomers, it would be a mistake not to note Saturday's masterful pitching performance of Rubby De La Rosa, acquired by the Sox last year from the Dodgers in the mega trade for Beckett, Crawford, Gonzalez, and Punto. Rubby (pronounced "Ruby") De La Rosa, whose grandmother worked as a nanny for Red Sox great Pedro Martinez and his brother, Ramon, became the 1st pitcher ever with 8 strikeouts, no walks or runs allowed in his 1st career start at Fenway. De La Rosa credits Pedro with teaching him how to throw his solid changeup.
Some final notes
With every outing Jon Lester looks more and more expensive for the Red Sox to lock up in a longterm contract. Today he was stellar going 7.0 innings strong with no runs, just one walk allowed, and 12 strikeouts…Lester now has 19 career starts with 10+ strikeouts, passing Smoky Joe Wood for sole possession of 3rd place on the Red Sox all-time list. Pedro Martinez is tops with 72 such games, Roger Clemens is 2nd with 68…Lester's career .631 winning percentage (106-62) is the 7th-best mark in club history…Red Sox started the day with 200 hits coming on a 2-strike count. That's the most in the American League. The Rockies are tops in baseball with just one more (201).