April's done, so let's review how the Red Sox have performed in this first month of the season.
Though the first 27 games of 2014 the Red Sox are under .500 standing at 13-14, compared to 19-8 in 2013. Last season, in fact, the Red Sox lead all of MLB with a .704 win percentage and had an MLB-best +47 run differential (in other words, the Sox scored 47 more runs than they allowed). The run-differential for the Red Sox in April was -12.
The club went 6-8 at Fenway, 7-6 on the road. BOS was 9-9 vs AL East teams, 2-1 vs the AL Central and AL West, and 0-3 in interleague play. They were 1-1 in extra-innings games.
Against righty starters Boston was 6-11 and they were 7-3 vs lefty starters.
At the plate
Blame it on the cold weather, perhaps, but through April 2014 the Red Sox averaged just 4.15 runs per game, 9th in the AL and below the AL average of 4.43.
With the lack of a consistent lead off man, 1st inning runs have been especially hard to come by in April for the Red Sox. There were just 4 overall, tied with the Mariners for the least in all of baseball (the Angels and Athletics led baseball in April with 26 such runs each).
The Red Sox had 1st inning success in 2013 with 106 1st-inning runs overall, just one fewer than the Angels for the most in MLB.
Particularly without Shane Victorino in the line up, an exciting part of Red Sox play from last year has been largely absent from 2014 so far. Boston has averaged 0.59 steal attempts per game this season (4th fewest in the American League). The Tigers led the AL in this category in April with 1.22 attempted steals, on average, per game.
Here's how Boston stacked up vs other American League clubs in April for some other offensive categories: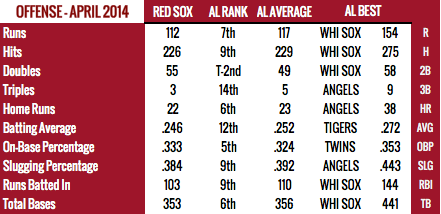 On the mound
Despite hearing all off-season about the depth of Red Sox pitching, the fact is, the club was far from being on auto pilot in April. Results from Buchholz (1-2, 6.66 ERA) and Doubront (1-3, 6.00 ERA) were shaky, at best, and as a team Red Sox pitchers have allowed the 2nd-most hits in the American League (261) behind the White Sox (266).
That said, Sox pitchers have the 5th most strikeouts in the League (226), an excellent strikeout-to-walk ratio, and have allowed the 6th fewest earned runs (106).
Here's how Red Sox pitching stacks up against other American League clubs in other pitching categories:

It's a mistake
One day last month a frustrated @RSNStats follower on Twitter asked, "has there been a Red Sox game this season where they HAVEN'T hit into a double play?" At times, it felt like there hadn't been. Whereas the rest of the American League has averaged 20 GDPs, the Red Sox have had 28, with Dustin Pedroia owning 4 of those and with 3 each by Bradley, Napoli, Pierzynski, and Carp. Mike Carp's are especially disappointing as his 3 GDPs are over just 31 total at-bats.
Here's how the Red Sox stack up against other American League clubs in other miscues:

Club Leaders
Red Sox Mike Napoli led the club in April for most offensive stats. He was the only batter on the club with a .300+ batting average (.305), and was tops, too, in on-base percentage (.405) and slugging percentage (.526). He drove in a club-best 15 runs and tied with David Ortiz for most home runs (5).
Among starting pitchers, Jake Peavy had a club-best 2.87 ERA in 5 starts. Among relievers Chris Capuano's 0.00 ERA across 14.1 innings pitched has been just outstanding.
Rest of the way
It's just one month, right? But in a tough division like ours, that matters.
Last season on May 1 the Red Sox had gone 19-8 in the first month, vaulting them to a 2.0 game lead in the AL East. The rest of the way Boston went 78-57 (.578) while the Rays, who started their 2013 campaign going a mediocre 12-15 in April, ultimately earned a playoff spot by going 80-56 for the top record in the AL East from May to September. In fact, in every other division of baseball, in both American and National leagues, the top clubs performed better than the Red Sox did after April.
The bottom line is that a strong April start in 2013 gave the Red Sox momentum that they just don't have this season. Like a lot of the games we've seen so far in 2014, it will take strong, late performance to make it back to playing in October 2014.