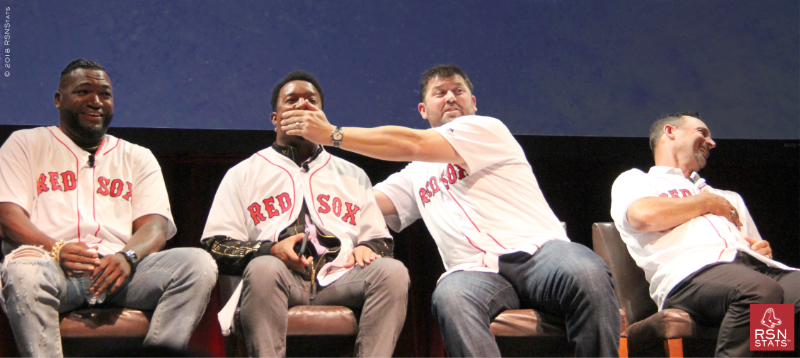 The lines can be long, but the glee is undeniable. The mid-winter Red Sox fan fest hearkens the start of new season. Once again, RSNStats went on the road to the  woods of Mashantucket, Connecticut for Sox Winter Weekend. Now in its fourth year, the event is part pep rally, part Old Home Week, but most of all, just good fun.
Festivities kicked off Friday evening with a Town Hall Meeting hosted by familiar NESN face Tom Caron. Roughly thirty members of the current team, including an entirely new set of coaches, ran in from the back of the auditorium to join Caron on-stage, high-fiving their way through adoring crowds. While neither Mookie Betts or Dustin Pedroia were there, the crowd had particularly robust applause and appreciation for Chris Sale, Craig Kimbrel, Jackie Bradley, Jr., Brock Holt, and Rafael Devers.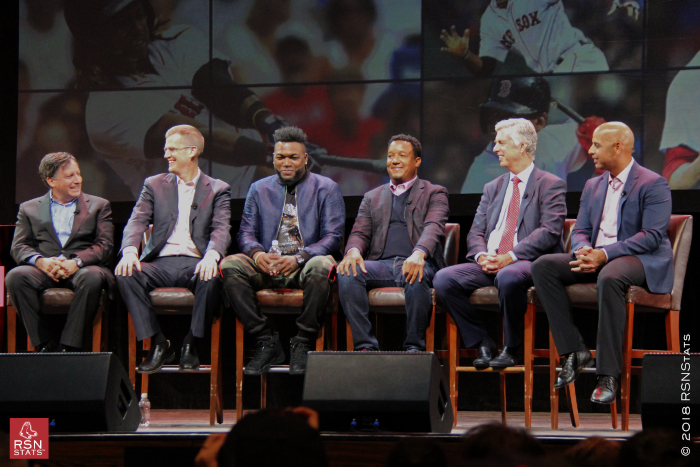 Once the players and coaches cleared the stage (a few not to be seen again the rest of the weekend), Caron introduced Red Sox chairman Tom Werner, club CEO and president Sam Kennedy, baseball president Dave Dombrowski, and new manager Alex Cora. Caron, who doesn't get enough credit, in my view, for doing his job so well, rotated through the panel with a few questions for each before turning the microphones over to the crowd.
Most fan questions, naturally, focused on the team's remarkably quiet off-season. Werner told reporters on his way into Foxwoods that the club is in "active negotiations" with slugger J.D. Martinez, but that "it takes two to make a deal." "At some point," Dombrowski told one fan from the stage, "the ice is going to melt" and deals will start coming quickly as we barrel towards the start of spring training.
The Town Hall is taped for NESN broadcast. After a break for commercials, Werner opened the next segment by earnestly telling the audience that while he and the group on stage get a lot of the media's attention, the Red Sox are fortunate to have many hard-working employees who make it possible to put out a quality product. Werner said it was time to recognize two of those long-term employees and with that, David Ortiz and Pedro Martinez took the stage to thunderous applause.
Cynics might argue that ensuing "Papi and Pedro Show" may have helped deflect some tough questioning about off-season deals, but seriously, who could blame the fans for turning full attention to these larger-that-life personalities? The remaining hour was filled with a lot of laughs, but also some poignant moment, such as when Caron recognized from the Jimmy Fund a younger questioner as cancer survivor. Ortiz beckoned her to the stage for a bear hug that left her in tears of joy and the rest of the audience enraptured.
Saturday Sessions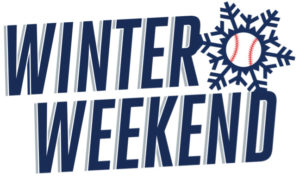 Though there are plenty of activities for the little ones, the heart of the the weekend for more mature fans comes Saturday when six discussion panels convened. Attendees are guaranteed access to just one panel but can wait in "standby" lines for the others. Lines can be long, but if you're willing to turn and strike up a conversation, there is always a shared topic of interest.
The waiting can be frustrating. There's a lot of standing around. It's nearly impossible to attend all the sessions. Still, it's an improvement over last year's ticketless system with overlapping session times, making it impossible to get into back-to-back discussions. Another big improvement for 2018 was the larger auditoriums with tiered seating so that even attendees in the back had an unobstructed view of the stage.
Saturday's leadoff panel with Cora and his slate of new coaches gave some insight into the new manager's philosophy. Cora reiterated his view that a combination of aggressive at-bats and smarter baserunning will yield more runs scored, even without the benefit of frequent home runs. Again and again Cora and the coaches returned to the theme of "stealing" wins here and there by capitalizing on both opportunity and advanced metrics. "You win 60, you lose 60. Everybody does that, the difference is what you do with the rest of the games," Cora said of the season ahead. "There are going to be certain games that we're going to steal because we're paying attention to details, and that's going to be our way."
A few other notes of interest from the coaches panel:
Emphasizing Cora's "get-'em-on, get-'em-over" philosophy, new bench coach Ron Roenicke said looking for home runs, particularly late in games against tough relievers isn't the way to win ball games. "I know that a lot of times you get into extra inning games, you go 15 innings, and you watch the at-bats, and everyone is up there trying to hit a home run, and that's why the game goes so long." Roenicke said he favored an approach that focuses on the other ways baserunners can cross home plate.
Asked who the most athletic member of the team is Cora deferred to longtime staffer (and new pitching coach) Dana LeVangie who unhesitatingly answered Joe Kelly followed by Xander Bogaerts. With a year of practice, LeVangie said, Kelly could actually play a position. "You guys only see half of it," LeVangie said. "There's so much more in there."
LeVangie made an interesting (albeit macabre) analogy about the Red Sox in the post-Ortiz era. "We lost somebody in our family. We lost David Ortiz in our family," LeVangie said, but noted that despite that the team still won the division and is now ready to face 2018 having fully grasped the changed lineup. "They are going to be better this year because they learned how to deal without David being around. They've become stronger, a better family, and we're going to have a better year because of it."
In the "On The Mound" panel, NESN play-by-play man Dave O'Brien moderated an entertaining discussion with ever-quotable Sale along with Kimbrel, Drew Pomeranz, and Rick Porcello. Though Major League commissioner Rob Manfred's newest pace-of-play initiatives are said to irk some member of the Players Union, Sale was unperturbed. "I don't know why anyone would be opposed to it," Sale said. "I don't like sitting there for three and a half hours."
Teammates For Life
The final session of the day, "Teammates for Life," brought together Ortiz, Martinez, Tim Wakefield, and Jason Varitek, in what was the highlight of the weekend. Recalling their times together with both funny and poignant stories, the one-time teammates' most memorable anecdote was a look "behind the scenes" with Manny Ramirez.
In two separate stories, Pedro and Papi recalled Manny intercepting food meant for their friends. In Pedro's case, dinner prepared by Martinez' sister for former big league player (and fellow Dominican) Pedro Astacio was re-directed by Manny to his own house, instead. Unbeknownst to Pedro, Ramírez then arranged for a Pizzeria Uno delivery for Astacio. Ortiz shared a similar story where Manny secretly jumped in to have food Papi had ordered for all his teammates to be sent instead to Ramírez' apartment, where he handed it out to staff and neighbors.
Martinez, always brimming with good humor and funny stories, would have dished more dirt, but when a fan asked for the most embarrassing story he could remember, Varitek was quick to block Pedro's answer as Tom Caron admonished the panel to keep it "family-friendly!"
As for their most stressful game ever, Varitek quickly recalled the last game of the 2007 Fall Classic in Colorado with Jon Lester on the mound. "We're in the clinching game of the World Series, and I'm supposed to…strategize and try to figure out how to help this young man, who's just beaten cancer, win a baseball game," Varitek explained. "That was probably the hardest, the most nerve-wracking…stress, that I've had."