After a mediocre April (12-10) and a miserable May (10-19), the calendar turns to June with hopes for a Red Sox turnaround and some salvation in 2015.
If ever a team needed a good month, the Red Sox are that team.
Best Junes
While you certainly can't take anything for granted when it comes to the 2015 Red Sox, June has, nonetheless, traditionally been a favorable month for the club.
Consider this: When looking at the last 10 seasons starting in 2005, the Red Sox have stacked up extremely favorably in June compared to other clubs in the major leagues.
Since 2005 Boston owns the 3rd-best batting average in baseball for June (.281) as well as the #1 on-base percentage (.350), the top slugging percentage (.450), and the top OPS (.801) for the month.
Ten seasons of Junes have yielded the Sox 4,168 total bases and 569 doubles, both the most by any club over that timespan in MLB. Boston's average on batted balls in play (in other words, plate appearances that ended with a ball in play that wasn't a home run) has been .316 over the last 10 Junes, the 3rd best mark in the American League and 4th-best in baseball.
Here's a look at the club's best (and worst) marks for the month of June since 1914 alongside a comparison to the club's performance in the month that just passed.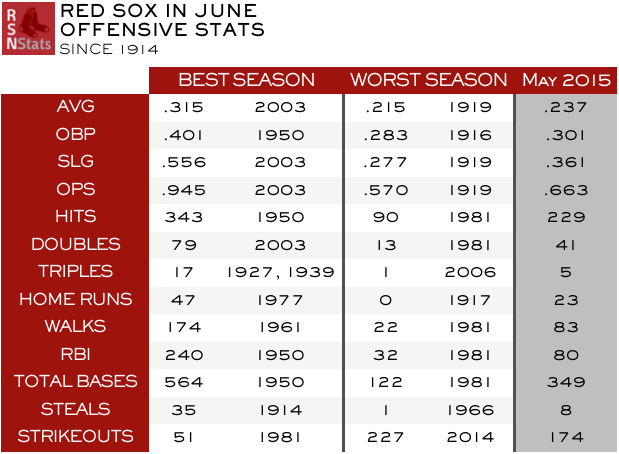 Individual performers
Among current Red Sox with at least 25 at-bats, the player with the best June record while playing for Boston is Brock Holt. His .322 AVG is a small sample size, however, as he's only had one June with the club (the one in 2014) up until now. Holt is followed by Shane Victorino's .304 AVG, though he, too, has appeared with Boston in just one season of June play (his was in 2013).
Daniel Nava has a few more data points and they're very favorable. In 4 seasons of  play from 2010 to 2014 he's put together a strong June AVG of .304 over 86 total games. He's followed by Dustin Pedroia (.296 in 199 games), David Ortiz (.296 in 279 games), and Mike Napoli (.287 in 42 games).
Since 1914 just three Red Sox have accumulated batting averages of .400 or better in June during their careers with Boston (minimum 30 at-bats). Topping the list is Gabe Kapler, who was 26-for-63 (.413) from 2003-06. He's followed by Bing Miller, 19-for-46 (.413) in 1935-36, and Dante Bichette, who was 36-for-90 (.400) in 2001. Honorable mention goes to Jose Iglesias for his 34-for-86 (.395) record of June 2013.
More than just offense
A winning June will take more than just solid offense, though that's not a bad place to start. It was, after all the one "given" we expected of this team when they broke camp in Florida this spring.
While the pitching has improved of late, back-to-back games with 3 Red Sox errors each, gave all fans a reason to question even the most fundamental beliefs about this year's team.
At the time of this writing the Red Sox are less than 5 games out of first place in the weak AL East division. June can be a new beginning for the Red Sox season. Nothing but possibilities on this first day of the heart of the season. We're on our way to learning whether this is the breakthrough month for the Sox or another disappointing 30 days on the march towards the trade deadline.